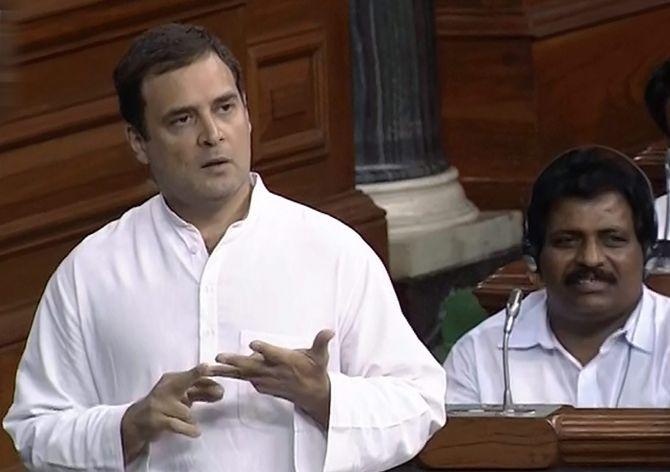 IMAGE: Congress president Rahul Gandhi during a debate on no-confidence motion in Lok Sabha on Friday. Photograph: LSTV grab via PTI
France on Friday said a security agreement it concluded with India in 2008 legally binds the two countries to protect the classified information relating to operational capabilities of defence equipment.
However, a statement issued by the French government after Congress president Rahul Gandhi raised the Indo-French Rafale jet deal during the no-confidence motion in Parliament, did not specifically mention whether the classified information included details of the pricing.
In his address during the debate on no-confidence motion in Lok Sabha, Gandhi said the French president had clearly conveyed to him that there was no problem in sharing details relating to the Rafale contrary to what the government has been saying and that the 'defence minister has clearly spoken an untruth'.
"We have noted the statement of Mr Rahul Gandhi before the Indian Parliament. France and India concluded in 2008 a security agreement, which legally binds the two States to protect the classified information provided by the partner, that could impact security and operational capabilities of the defence equipment of India or France," the Spokesperson of the Ministry of Europe and Foreign Affairs said.
The official further said, "These provisions naturally apply to the IGA (Inter Governmental Agreement) concluded on 23 September 2016 on the acquisition of 36 Rafale aircraft and their weapons."
"As the President of the French Republic indicated publicly in an interview given to India Today on March 9, 2018, in India and in France, when a deal is very sensitive, we can't reveal all details," the official said.
Alleging corruption in the deal, the Congress has been demanding details, including cost of equipment and weapons, but the government has refused to share them citing a secrecy pact with France..
Responding to the statement by France, Gandhi said, "Let them deny it if they want. He (Macron) said that before me. I was there, Anand Sharma and Dr Manmohan Singh were also there."
Meanwhile, the Bharatiya Janata Party on Friday submitted a privilege notice against Gandhi for 'misleading' Parliament, hours after he accused Defence Minister Nirmala Sitharaman of lying to the nation.
Talking to reporters outside Parliament, Parliamentary Affairs Minister Ananth Kumar said Rahul's behaviour in the House was 'childish'.
"It's unfortunate that he has not grown up. It's unfortunate that the president of the Congress is so ill-informed and immature," he said.
According to the rules of the House, Gandhi should have given prior notice before making any allegations against any member. He should have given substantiating material to the Speaker, the minister added.
"BJP MPs will move a privilege motion against Rahul Gandhi for falsehood and misleading Parliament," he added.
Later, BJP MP Prahlad Joshi submitted a notice for privilege against Gandhi in the Lok Sabha.
With ANI inputs