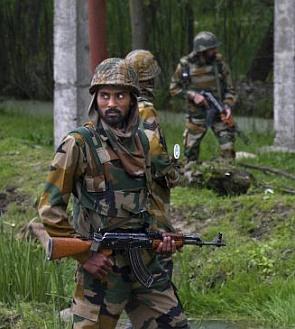 The government on Wednesday said that time was "not appropriate" for withdrawal of Armed Forces Special Powers Act from Jammu and Kashmir.
Minister of State for Home Kiren Rijiju, in a written reply in Rajya Sabha, said the issue was raised by state Chief Minister Omar Abdullah during the conference of Chief Ministers on Internal Security on June 5, 2013.

The Chief Minister, Rijiju said, "raised the issue of withdrawal of Armed Forces Special Powers Act from the state in a phased manner, beginning from the areas which have been free from militancy for quite sometime.
"However, various stakeholders particularly the security agencies have expressed their apprehension to the government that the revocation of the Act from the state of J and K will jeopardise their efforts in maintaining the security and law and order in the state.

"Hence, it has been decided that the time is not appropriate at the moment for withdrawal of AFSPA from the state of J and K," the minister said.
As regards North-Eastern states, Rijiju said, "Representations have been received from time to time from different organisations/NGOs from Manipur for withdrawal of
AFSPA. On security matters, the government of India carefully evaluates the situation on the ground before taking any decision."
In reply to a separate question, Rijiju said the resolution of the Kashmir problem involves multi-faceted approach to address the issues besieging the state such as terrorism, infiltration, Pakistan factor, political polarisation among others.

The government has initiated several actions from time to time for resolving the above issues emanating from the domestic and external factors, he said.
"Towards the domestic front, the government in tandem with the state government adopted a multi-pronged approach to contain cross-border infiltration in Jammu and Kashmir, which includes, inter-alia, strengthening of border management and multi-tiered and multi-modal deployment along international borderline of control and infiltration routes, improved intelligence and operational coordination and pro-active action against the terrorists within the state," the minister said.