Not just students, even school teachers and principals are part of the rot afflicting Bihar's education system.
M I Khan reports from Patna.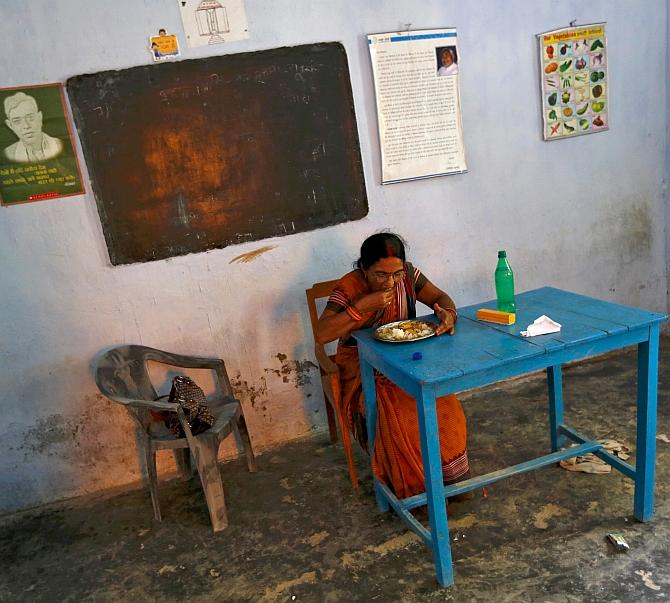 Bihar, a state already shamed by the merit scam where its exam toppers couldn't even pronounce their curriculum subjects properly, has been rocked by a new revelation.
This time around it involves principals of government-run middle to high schools, dozens of whom can neither frame a sentence in English nor can do simple calculations.
This revelation came after Patna District Magistrate Sanjay Kumar convened a meeting with principals to discuss ways to improve the quality of education in the schools.
To his disbelief, many principals failed to answer simple questions.
One school principal miscalculated his school's pass percentage; others fumbled to give an average of students' and teachers' attendance.
Another principal looked lost when Kumar asked him a question in English. The principal later admitted that he didn't understand English.
While stating that he was not taking a test, Kumar said: "Whatever was exposed indicates poor quality of some school principals who are responsible for teaching students. It is a matter of concern."
Admitting that the quality of teachers in the state was indeed quite poor, a senior education department official told this correspondent, "In last two to three years, there have been media reports that teachers in several government-run schools cannot spell the days of a week and months of a year; some can't even spell apple or grape. I am not even talking about their writing skills."
Recently, Buxar District Magistrate Raman Kumar encountered a similar situation during an inspection of a government-run primary school in Rajpur locality.
Having realised that the principal had been mispronouncing certain words during his interaction with her, the officer asked her to write the words 'Namaskar' and 'Aashirwad' in Hindi.
But despite repeated attempts, she couldn't.
Eventually, Raman wrote the words himself on the blackboard for the students, much to the embarrassment of the principal.
The revelations come as a blow to Bihar Chief Minister Nitish Kumar and Education Minister Ashok Choudhary who have repeatedly said that the government is committed to provide quality education by improving the quality of teachers through training.
Representative Image Courtesy Reuters