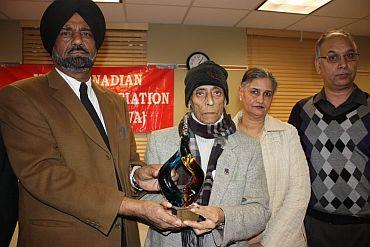 Dr Darshan Singh Gill, editor, Canada Darpan, has been felicitated by the Indo-Canadian Workers' Association in Surrey, British Columbia, for his courageous writings at the height of the Khalistan movement in the 1980s.
Sikh fundamentalists boycotted his paper. A firebomb was thrown at his house. But he, with the support of his wife Charanjeet Kaur, continued to publish the newspaper for several years. 
Liberal lawmaker Ujjal Dosanjh told the audience that Gill was among the few writers who did not succumb to the pressure of extremist forces.
He expressed concerns that separatist and extremist forces continue to pose a challenge to India's unity and integrity.
"They have only changed their colours in Canada and are trying to revive extremism through more sophisticated means," he said.
Surinder Sangha, president, ICWA, said Gill's name would be written in red letters in the history of Canada's progressive movements. 
Kulwant Dhesi from ICWA said Gill was one of the few journalists who understood their social responsibilities. "Many others who claim to be progressive writers had rather maintained a studied silence over the violent activities of the extremists," he added.
"We were only trying to provide a platform for secular forces against fundamentalists," Gill said. 
Maninder Singh Gill, managing director, Radio India, who had bought Canada Darpan from Gill, was also present at the event. He spoke about how he had to shut it down when Khalistan supporters sued him for taking a position against violence and extremism.
Image: ICWA felicitates Dr Darshan Singh Gill (centre)