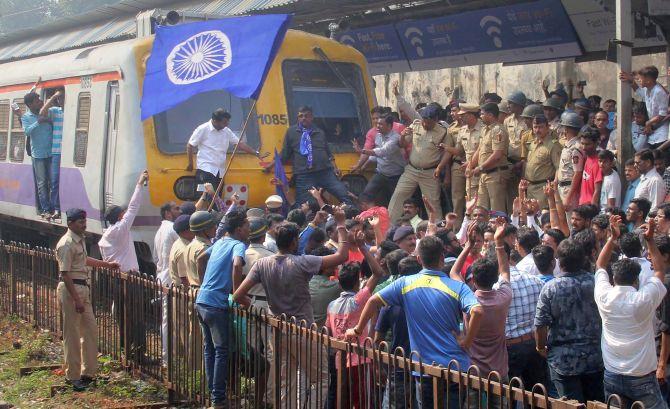 Apart from the fast pace, what sets Mumbai apart is its professionalism, perhaps an underrated quality which helps the financial capital spring back after every setback.
There was mobility in the groups of protesters who went about disrupting the rail and road movement.
It was not uncommon to find the same group indulging in mischief at a location and then scooting off to the next 'target', while walking on rail tracks or riding bikes on empty roads.
On his journey from Thane to Kurla on the Central Railway line, this correspondent saw scores of commuters jump out of trains that were stopped due to blocks by protesters and walk along the tracks.
The next choice was a tad difficult for commuters: Should one return home or plod on regardless to their work place, irrespective of the spectre of violence which loomed at many places.
At the city's central suburban railway station of Kanjurmarg, police personnel deployed there watched as protesters indulged in stone pelting, threw furniture around and smashed food stalls.
On the usually busy Eastern Express Highway, groups of protesters squatted, holding up vehicular movement for over five hours, as they blocked the key arterial road.
At Vikhroli, this correspondent got a 'lift' from a motorcyclist travelling towards south Mumbai.
"I can drop you up to south Mumbai or till the mob allows," was the deal.
At the Mata Ramabai Ambedkar Nagar in Ghatkopar, young men 'patrolled' on motor cyles, while children, women and elders squatted on the highway.
If any bike-rider approached, kids at the 'squatters junction' as it were, would pounce on the bikes and ask the rider to turn back, with rampant use of foul language.
At the Amar Mahal junction in Chembur, the motorcycle this correspondent was riding was stopped by a group wielding sticks. An ambulance passing by offered an alibi. The protesters were told a close relative was critical and needed to be taken to hospital.
It was a smooth ride after Sion as the traffic was thin and the remaining journey in the Maximum City was uneventful for this Mumbai correspondent.
The benefactor, a businessman, heaved a sigh of relief after the motorcycle crossed the Byculla flyover on Babasaheb Ambedkar Road to enter the Muslim-dominated Nagpada area.
"Abhi tension nahin (there is no tension now), we are in Pakistan," he exclaimed, in a telling comment on the silos that the city resides in.
A quick cab ride later, the correspondent reached the office at Hutatma Chowk.
The train-walk-bike-taxi journey on Wednesday to the office, usually covered in an hour, took five-long but enlightening hours, as the city observed a bandh called against violence on the anniversary of a battle fought 200 years ago.
Image: Protesters block the train tracks at Dadar in Mumbai's central area on the day when a Maharashtra bandh was called. Photograph: PTI Photo