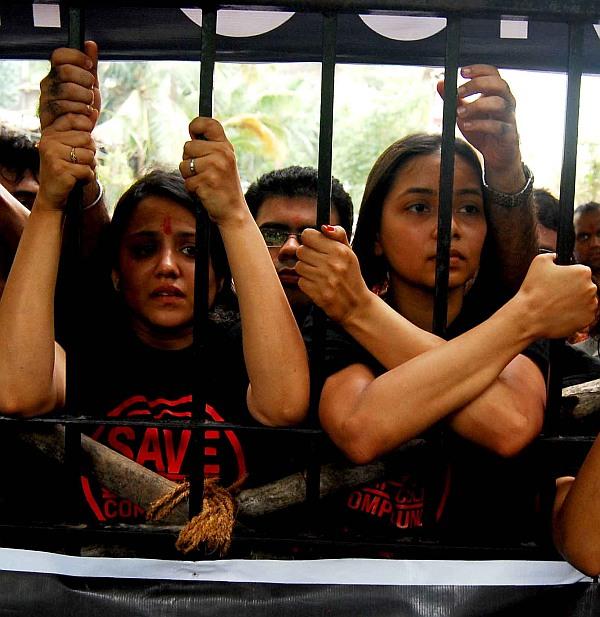 In a climbdown, residents of Campa Cola compound, who have been resisting authorities since Friday, on Sunday agreed to allow municipal officials to enter the premises on Monday and disconnect electricity, water and gas pipeline connections to illegal flats.
The decision was announced by the residents of the housing complex in plush Worli area of south Mumbai after a meeting with Chief Minister Prithviraj Chavan who asked them to comply with the law and assured that their proposal of 67,000 sq ft permissible Floor Space Index would be positively considered.
"We are tired of all this, can't do this anymore. We will explore all legal solutions. We were all fighting to save our homes. It was not a mistake. We will comply with Supreme Court order... We will open our gates for the BMC to execute their duties," said Ashish Jalan, a resident of the complex, while briefing the media.
"We have written to the President and have humbly stated the ways in which the illegal flats can be regularised. We have also requested him to pardon our society as a lot of senior citizens staying here have nowhere else to go,"said Ankit Garg, a resident.
However, reacting to the residents' filing a petition with the President, Deputy Municipal Commissioner Anand Waghralkar said they have received no intimation from the President's office to halt the eviction process and that the Municipal Corporation of Greater Mumbai will continue with its work.
"We have received absolutely no orders from the President's office to halt the eviction process. The residents are only trying to buy more time, which we will not allow any more," he said.
So far, the MCGM authorities have not used any force to evict the residents and are only trying to convince them to vacate the flats so that demolition can begin.
However, Waghralkar said they would not hesitate to use force if they are not allowed to enter the complex to cut water and power supply to the illegal flats. "The residents are opposing our move to enter the premises for the third straight day. We will not give them any more time. They have crossed all limits. We will now not hesitate to use force against them if they do not allow us to enter the complex," he said.
MCGM officials continued to face stiff resistance from the residents throughout the day. Two women fell unconscious during the protest and had to be taken to hospital. Meanwhile, Maharashtra Navnirman Sena leader Bala Nandgaonkar told PTI that he along with Bharatiya Janata Party leader ShainaNC and the residents met Chief Minister Prithviraj Chavan on Sunday afternoon and said they (residents) are not against the court order of demolition of illegal flats, but have proposed that the Campa Cola compound should get its "legitimate Floor Space Index ".
FSI is the ratio between the built up area allowed and plot area available.
Photograph: Capa Cola residents protest inside the building compound. Photograph: Sahil Salvi