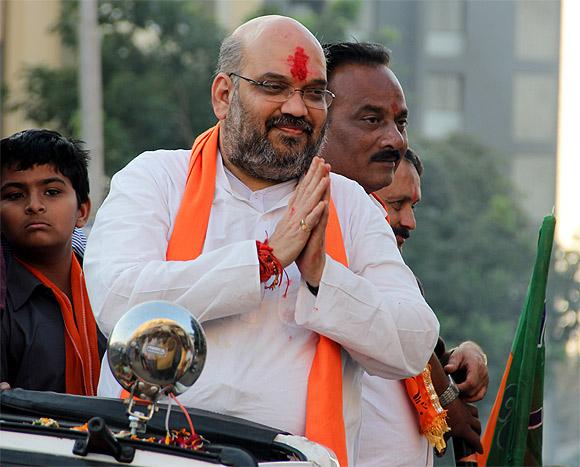 By calling off the scheduled foreign secretary talks, the Modi government has sent out a message to Pakistan that bilateral dialogue cannot be held if it continues to engage separatists in Kashmir vis-a-vis India, Bharatiya Janata Party president Amit Shah said.
"As it does always, Pakistan sent an invitation to separatists (ahead of foreign secretary-level talks). No government had the courage to stop that. The Modi government sent a message to Pakistan that if you want to talk to separatists, you can't talk to India. I can proudly say that only a BJP PM can do that,"he said.
Similarly, the government has decided that it cannot accept the proposed agreement in the World Trade Organisation as it was against the interest of the farmers of the country, Shah said.
He said that the Modi government has made a new beginning like campaign for cleanliness, construction of toilets and promotion of manufacturing in the country.
The BJP chief was speaking at a convention of village unit presidents of the party in Telangana.
Noting that people from different sections of the society are looking up at the BJP and Modi's leadership, he exhorted the partymen to reach out to the people and expand the party up to the booth level.
Shah expressed confidence that the party would come to power in Telangana in 2019 elections if the party activists and leaders worked hard for strengthening the organisation in the state.
BJP should be strengthened in the eight states including Telangana, Andhra Pradesh, Tamil Nadu, Kerala, Assam and West Bengal and Eastern regions of the country, he said.
© Copyright 2023 PTI. All rights reserved. Republication or redistribution of PTI content, including by framing or similar means, is expressly prohibited without the prior written consent.