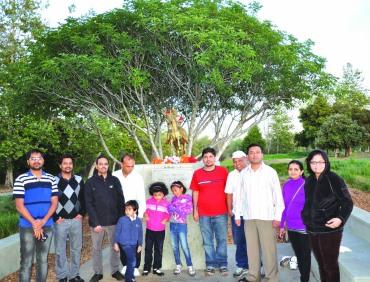 A group of people, mainly from the Hindu Swayamsevak Sangh's Bay Area chapter, celebrated Chhatrapati Shivaji Jayanti (the birthday of Shivaji) at the Guadalupe River Park in San Jose, California, on March 19.
The park is home to a small statue of the 17th century warrior Indian king.
July 3, 1999, the statue was presented as a gift to San Jose from its sister city Pune (the relationship with Pune, one of San Jose's seven sister cities, was established in 1992).
The volunteers who gathered at Guadalupe Park washed the statue, offered flowers, recited poems written in honor of Shivaji and narrated incidents from his life.
"We celebrate Chhatrapati Shivaji Maharaj's Jayanti in HSS Balagokulam local chapters, but this year we decided to meet at Guadalupe River Park," Nilesh Pathak, one of the organisers, told rediff.com.
"Shivaji is a hero not just to the Indians but even in a country like Vietnam whose foreign minister once said that the country during the Vietnam War was inspired by the stories of how a small army of Shivaji successfully fought the mighty Mughal army."