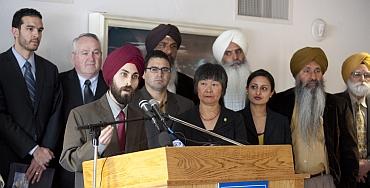 About 50 people from various religious group attended a press conference on April 11, in West Sacramento, where California Assemblywoman Mariko Yamada, D-Davis, announced the introduction of Assembly Bill 1964, which would strengthen religious freedoms in the workplace. 
The event took place at the Gurdwara Sahib Sikh Temple.
"AB1964 is extremely important for religious minorities, including Sikhs, who encounter job discrimination because of turbans and beards," Rajdeep Singh, Director of Law and Policy,The Sikh Coalition told Rediff.com.
He added, "California Sikhs encounter job discrimination in law enforcement agencies because of restrictive uniform policies. This is ironic because Sikhs serve with distinction in the uniformed services of India, Canada, the United Kingdom, and even the United States Army. If AB1964 becomes law, it will hopefully force law enforcement agencies in California to modernise their uniform policies and accept Sikhs into their ranks."
Named after the Civil Rights act of 1964, the Bill 1964, known as the Workplace Religious Freedom Act of 2012 (AB1964), will be considered by two legislative committees this month. It clarifies the Fair Employment and Housing Act to ensure that religion receives equal protection under law.
"The landmark federal Civil Right Act of 1964 outlawed discrimination on the basis of race, color, religion, sex or national origin in employment. AB 1964 follows in its footsteps to make explicit in state law that no person can be discriminated against in the workplace based on their religious beliefs and practices," said Yamada. "I am proud to have the interfaith community's support on this important piece of legislation."
AB 1964 states that undue hardship, as defined in the Definitions section of FEHA, will also apply to the Religious Discrimination section, clearing up legal confusion of federal vs. state definitions of "undue hardship".
The bill would also specify that religious clothing and hairstyles qualify as a religious belief or observance and that segregating an employee from customers or the public is not a reasonable accommodation of an employee's religious beliefs.
Changing demographics, both nationally and in California, has resulted in increased numbers of religious discrimination cases in the United States.
According to the Equal Employment Opportunity Commission, religious discrimination cases rose 9.5 per cent in 2011, contributing to the nearly 100,000 charges of employer discrimination nationwide. In California, employers faced over 500 such cases. According to a Sikh Coalition report published in 2010, approximately 12 percent of Sikhs in the San Francisco Bay Area believe that they have experienced job discrimination.
"It needs to be legitimately significant in order for them to create religious accommodation. It also makes clear that segregating is not an okay accommodation," Yamada said.
On April 18, the Assembly Labor and Employment Committee will review the bill.
"We are hopeful and positive and we are working as hard we can," said Linn. "However it might be a little bit harder when the bill goes further, but we have a positive outlook."
She said if the bill passes through the committee, than it will go to assembly judiciary committee as it deals with the court cases and after that it has to go through Assembly Appropriation Committee to see if there is any cost associated to this bill. Only after that it will go to the assembly floor before going to Senate. 
She said the need to call the press conference was to make people aware of the legislation, interfaith community around and let them know what Yamada is doing.
"We want to ensure that we have lots of support with us, when the bill is heard. This Bill could be controversial and we want to be careful that we have all interfaith community standing behind us," said Linn. 
Yamada has always been a strong supporter of the Sikh community and the idea to draft the bill came to her after having discussion with the interfaith community people.
"We did realise that there was need for the legislation to become a law," said Linn. During the conference it was stated that in California, there is no Sikh police officers. "There have been times when Sikhs were not included in jobs because of their beards, and they are sick of those things." stated Linn. 
The Bill has been sponsored by The Sikh Coalition. Until now, there is no official opposition but they do anticipate opposition from employer organisations.
Picture: Rajdeep Singh (behind the microphone) with Assemblywoman Mariko Yamada