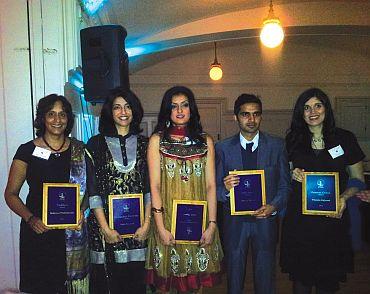 Indian origin lawyers Kalpana Peddibhotla, Neha Sampat, Daljit Dhami, Vineeta Gajwani and Anoop Prasad were awarded at the South Asian Bar Association of Northern California's 19th annual gala held on March 30 in San Francisco, United States.


Kalpana Peddibhotla received the Trailblazer Award for her representation and advocacy of the students of the shutdown Tri-Valley University. She collaborated with the North American South Asian Bar Association and South Asian Americans Leading Together to take up the students' cause with the Congressional Asian Pacific American Caucus, and worked with the Indian government in its advocacy efforts.


In another high-profile case, she gained a stay of removal for Mandeep Chahal, a star University of California-Davis pre-med student. Chahal's case captured national attention, and her story was featured by Senator Dick Durbin in his testimony on the DREAM Act. 


Peddibhotla said it was important that SABA-NC recognized the importance of immigration issues and how they impact the community.  


"While I appreciate the honour," Peddibhotla told rediff.com, "I feel that there is a lot of unfinished work. I have worked with the Indian government to push the US Department of Homeland Security for a fair resolution of the students' cases. I feel that we still have not received a satisfactory resolution. I plan to continue my efforts in advocating on behalf of former TVU students."


She said only four students had so far been indicted for fraud after a year-long intensive investigation in which the DHS interviewed hundreds of students. Until the immigration status of all the students is restored, she said, the issue is not over. 


Neha Sampat, associate dean, student services, Golden Gate University School of Law, received the Outstanding Mentorship Award. Sampat's research on bar exam accommodation denials for minorities and other diverse populations with attention-deficit/hyperactivity disorder will be published in the forthcoming edition of the Hastings Race and Poverty Law journal. She has also dedicated countless hours to counselling attorneys about career transitions.


The award, Sampat told rediff.com, "is deeply meaningful for me, not only because it comes from SABA, an organisation that is near and dear to my heart, but also because it values something that is very important to me, and that is sharing one's experiences and insight with others."


She said when she started law school, she did not personally know a single attorney.

"My professional network began to develop when I became a student member of SABA, through which I met a wonderful, albeit relatively small group of South Asian lawyers who helped orient me to the profession," she said.

"It has been a thrill to see the organization grow as more and more minorities are entering the legal profession, and it is an honour to be on the other side of the mentoring relationship," she added.

Daljit Dhami, co-president of the SABA Foundation who works at Dhillon & Smith, LLP, received the Community Impact Award.

She was previously a fellow at the Asian Law Caucus and a migrant staff attorney at the California Rural Legal Assistance. She has represented individual and class clients with wage and hour, personal injury and civil rights claims, and she represents several South Asian women and men with claims related to workplace discrimination. 

Vineeta Gajwani, intellectual property legal counsel at Electronic Arts Inc, a developer of interactive entertainment software, received the Corporate Counsel Award.

Anoop Prasad, staff attorney with the Immigrant Rights Program at the Asian Law Caucus, received the Public Interest Award. His work consists of direct representation of clients in deportation proceedings and federal litigation. He has particularly focused on representing South Asian clients in detention, long term permanent residents being deported for criminal convictions, detainees with mental health issues, and DREAM Act-eligible youth.

The gala's evening keynote speaker, venture capitalist Kamil Hasan, spoke about political activism in the South Asian community.
"It is very important for South Asians to be politically active," Shaamini Babu, co-president of the 400-member SABA-NC, told rediff.com.

Image: From left, Kalpana Peddibhotla, Neha Sampat, Daljit Dhami, Anoop Prasad and Vineeta Gajwani