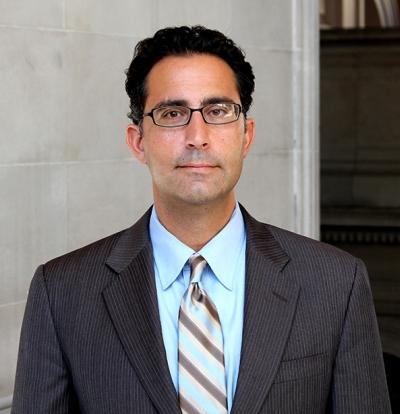 Notch up one more for the Indian American community, as Vince Chhabria is confirmed as a US federal judge.
The United State senate has confirmed Indian-American Vince Girdhari Chhabria as the federal judge of the US district court for the northern district of California.
Chhabria, who presently serves as the deputy San Francisco City attorney, is the first person of South Asian descent to ever serve as an Article III judge in California's history and one of only a few South Asian federal judges across the nation.
The Senate voted 58 to 41 to confirm Chhabria to the federal bench. He was first nominated by US President Barack Obama on July 25 last year.
Chhabria, 44, spent the past nine years in the California City attorney's office, representing the city in a wide range of litigation matters including the successful defence of the Healthy San Francisco initiative, and the fight for marriage equality for same-sex couples.
Currently visiting family in India, the judge said in a press statement, 'I am thrilled to begin this new chapter of my career in public service, and to set up shop down the hall from my greatest mentor, Judge Charles Breyer. But as it sinks in that I'm truly leaving the city attorney's office, a wave of sadness overcomes me. While I had high expectations when I started here nine years ago, I never dreamed I would be lucky enough to work on so many exciting cases, for so many dynamic clients, with so many dedicated and high-caliber public lawyers.
'I would like to thank President Obama and the United States senate for entrusting me with this weighty responsibility. I'm extremely grateful to (California) Senator (Barbara) Boxer for recommending me to the president, and to Senator (Dianne) Feinstein for her support and guidance through the confirmation process.
'And I especially want to thank City Attorney Dennis Herrera, a leader who captains the ship in a way that gives young lawyers the opportunity to flourish. I would never be in this position today without him,' he said.
Chhabria also thanked the members of the South Asian legal community. 'The fact that I have been confirmed while traveling in India with my family makes this an especially proud moment for me.'
He is expected to assume his seat within a few weeks.
Chhabria, currently, also serves as the co-chief of appellate litigation at the San Francisco City Attorney's Office. Previously, he worked as an associate at the law firm of Covington & Burling, LLP from 2002 to 2004. From 2001 to 2002, he clerked at the US Supreme Court for Justice Stephen G Breyer. In 2001, he worked at the law firm of Keker & Van Nest, LLP, after completing a one-year clerkship for Judge James R Browning of the US court of appeals for the ninth circuit.
He began his legal career by clerking for Judge Charles R Breyer of the US district court for the Northern District of California from 1998 to 1999.
Born to Indian parents, who are Mumbai natives, Chhabria received his juris doctor in 1998 from Boalt Hall School of Law at the University of California, Berkeley, and his BA in 1991 from the University of California, Santa Cruz.
The South Asian Bar of Association of North America and the South Asian Bar Association of Northern California have applauded Chhabria's historic confirmation to the US district court.
'SABA North America and its members are very proud of Vince and all the hard work he will continue to do as he rises to this well-deserved position,' said Nadeem Bezar, president of SABA North America though a press statement.
Chhabria has been a long-time supporter of the South Asian legal community and SABA-NC.
"This is an historic moment for not only the South Asian community, but for the entire federal judiciary," said Maulik Shah, co-president of SABA-NC. "We are grateful to Senator Boxer and President Obama for recognising Vince's accomplishments, and we are proud to have such a talented attorney sitting on the federal bench."
The Congressional Asian Pacific American Caucus hair, Congresswoman Judy Chu Congressman Mike Honda, CAPAC Chair Emeritus and Congressman Ami Bera also applauded Chhabria's confirmation. Congressman Bera said, "Vince Chhabria will make an excellent judge for the US district court. I'm delighted that he was confirmed. As the first South Asian to serve on the federal bench in California, he has also made California's Indian American and South Asian community proud."
Congresswoman Chu said that he brings a wealth of experience and talent from his distinguished legal career and will serve the people of California honorably.
Congressman Honda said Chhabtria's confirmation marks a historic moment for the Asian Americans and Pacific Islanders community and that he possesses a sharp legal mind and will be an asset to the bench.
Image: The US Senate voted 58 to 41 to confirm Vince Girdhari Chhabria to the federal bench