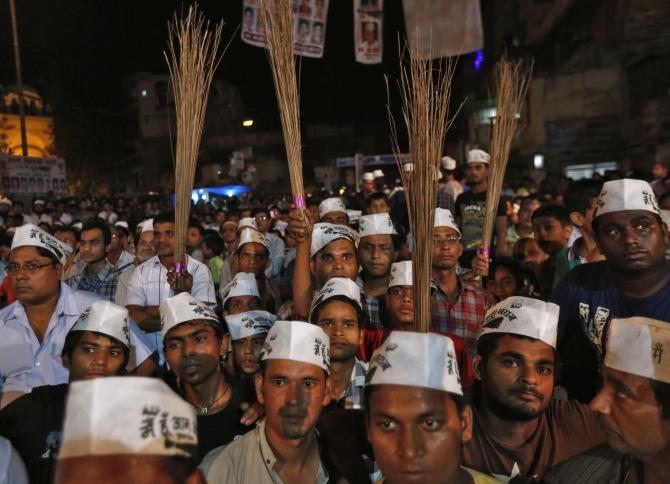 The Election Commission today announced by-polls to three assembly constituencies in Delhi which fell vacant after Bharatiya Janata Party MLAs were elected to the Lok Sabha in the recently-held general elections.
Chief Election Commissioner VS Sampath said by-polls to Krishna Nagar, Mehrauli and Tughlaqabad assembly seats will be held on November 25 along with the first phase of assembly elections in Jammu and Kashmir and Jharkhand.
The three seats of the 70-member Delhi Assembly fell vacant in May after sitting BJP legislators Harsh Vardhan, Pravesh Verma and Ramesh Bidhuri were elected to the Lok Sabha.
"For Delhi, we have come to the end of the road...we were awaiting developments in the Supreme Court. Now is the time for by-polls in Delhi," Sampath told reporters here.
November 28 is the deadline for the poll body to hold by-polls in Delhi after the seats fell vacant.
Election Commissioner HS Brahma later told reporters that in case the SC or the Delhi Lt Governor deciding to dissolve the Delhi Assembly, the EC notification regarding the by-polls would be withdrawn.
The notification for the by-polls will be issued on October 28, kick-starting the process of filing nominations.
The last date of making nominations is November 5, while the scrutiny will take place on November 7. The last date of withdrawing names from the electoral battle has been fixed on November 10.
While polling will take place on November 25, counting will take place on December 23, along with those for Jammu and Kashmir and Jharkhand. The poll process in Delhi has to be completed by December 29.
The Delhi Assembly election results threw up a 'hung assembly' as both major parties, BJP with its 32-seat haul and Aam Aadmi Party with its 28 tally, fell short of the majority figure of 35 seats.
President's Rule was imposed in Delhi on February 17 after the AAP government quit office on February 14.