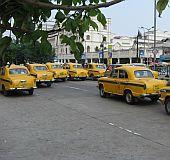 Private buses and taxis in West Bengal may go off the roads after the Durga Puja if fares are not increased, even as operators are pinning their hopes on an assurance by Chief Minister Mamata Banerjee to look into the issue after Lakshmi Puja.
An indefinite strike called by operators of 60,000 private buses, the mainstay of public transport in the state, in early October was postponed till Lakshmi Puja, which falls on October 29, following a meeting with the chief minister.
"When the chief minister has given an assurance, we are hopeful that a solution will be reached," Secretary of Joint Council of Bus Syndicates, Sadhan Das, told PTI.
Asked whether his organisation would go on strike if fares are not hiked, a consistent demand following the steep increase in diesel prices in September, a cautious Das said "We don't want to say anything on that. We are hopeful that the chief minister will provide us relief."
Banerjee, who during her tenure as Railway Minister did not allow passenger fares to be increased, met the representatives of bus operators on October eight.

According to Das, the chief minister requested the operators not to go on a strike during the festive season.
She also asked them to submit documents on their demand for increase in fares and losses incurred.
The representatives of the association would meet Transport minister Madan Mitra after the Pujas and decide on the next course of action.
Representatives of the association had called an indefinite strike from 9 October demanding an increase in fares.

Two other organisations, Bengal Bus Syndicate and Minibus Operators' Union have also threatened a strike, but decided to wait till the festive season was over.
The operators claimed that fares have not been revised for a long time, but diesel prices and other operating costs have gone up heavily, making the business unviable.
"Of the 37,000 buses under our fold, only 25,000 are now running as many owners have pulled out their vehicles due to unviability," the secretary of Joint Council of Bus Syndicate said.
"Due to bad business, buses will automatically go off roads if fares are not hiked," Bobby Mukherjee, who owns four buses on a city route, said.
Meanwhile, taxi operators in the metropolis are also likely to go off the roads if their fares are not hiked.
The Bengal Taxi Association, which had resorted to a two-day strike earlier, is likely to take a decision on their next course of action at a meeting after the Lakshmi Puja.
"At least 8,000 taxis have gone off the roads and only 28,000 are now in business," BTA president Bimal Guha said.


"We hope that the government does something soon to ameliorate our situation," Guha said.