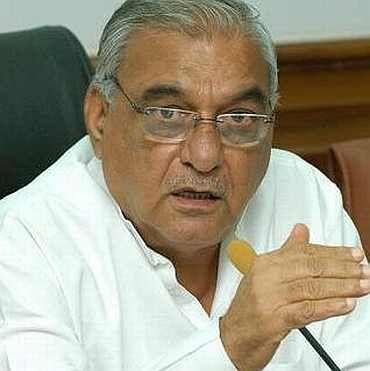 In the dust and din raised in wake of forthcoming assembly polls in Haryana, retired bureaucrats and police officers have also thrown their hat in the ring to make a future in politics.
Some of the recently retired officers are in the fray to test political waters in the 'jat' heartland which goes to polls on October 15.
Sunita Duggal, who resigned recently after a career in Indian Revenue Services, has been fielded by the Bharatiya Janata Party from Ratia constituency.
Her husband, Rajesh Duggal is IPS officer and Faridabad Deputy Commissioner of Police.
Recently retired from Indian Administrative Services officer and additional chief secretary of Haryana, Ramindra Jakhu, too joined the BJP.
Jakhu, who retired in December, last year, said inclusive development will take place under the new dispensation which is bound to impact the state.
With 35 years of administrative experience behind him as a bureaucrat from the state, Jakhu says he is "ready to play any role that the party assigns him." His wife Shakuntala is the chief secretary of Haryana.
Santosh Sarwan, wife of former IAS officer M. L. Sarwan, got a BJP ticket from Mulana (reserve) constituency. Besides, the saffron party is fielding retired officer Abhay Singh Yadav from Nangal Choudhary constituency.
"Former officers have also been given ticket as with administrative experience they can serve the people better after becoming a legislator. Winnability factor was also kept in mind," a Haryana BJP spokesman said.
The spokesman further said retired officers are part of the society and if any one of them has a desire to join politics, they have a right to do so.
Meanwhile, two recently retired IPS officers, Additional Director General of Police Ram Chander Jowal and Inspector General of Police Ranbir Sharma have floated their own parties.
While Jowal has floated 'Apna Raj Front', Sharma, who had joined Aam Aadmi Party during the Lok Sabha elections, has floated 'Lok Swaraj Party' after quitting the Arvind Kejriwal-led party.
Jowal who believes the present "rotten system" needs to be changed, says "we promise to provide equal opportunities to people of all castes and communities in power politics."
Sharma, who is son-in-law of former union minister I D Swami, says he resigned from service as he didn't want to be part of corruption.
"The present system has collapsed and needs to be changed," he said.
Another cop, Raj Singh Mor, is the Indian National Lok Dal nominee from the Narnaund assembly segment.
Two former Director General of Police Mahender Singh Malik and A S Bhatotia, too are participating in the political slugfest in the state.
While Malik is associated with the Om Parkash Chautala-led Indian National Lok Dal, Bhatotia, a 1973 batch officer shifted from BJP to Congress and then to AAP.
Former ADGP P V Rathi, who recently resigned as the principal adviser to Haryana chief minister, is also attempting to make forays into the political arena.
© Copyright 2020 PTI. All rights reserved. Republication or redistribution of PTI content, including by framing or similar means, is expressly prohibited without the prior written consent.