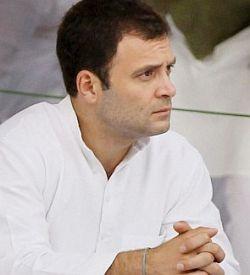 Slamming the Bharatiya Janata Party for its "politics of India Shining," Rahul Gandhi on Thursday reached out to the poor and rural youths in Bundelkhand, hard-selling the United Progressive Alliance's flagship schemes of food security, land acquisition and job guarantee programme Mahatma Gandhi National Rural Employment Guarantee Act.
The Congress vice-president stressed on the unity of his party in the faction-ridden state unit and expressed confidence that it will form the next government in Madhya Pradesh, which will "not belong to a leader" but to the poor, youths and women.
"Bundelkhand has become a victim of the slogan of India shining. The politics of India Shining has ignored the screams of the people of Bundelkhand for development. Did you feel the glaze of India shining? This is politics of air-conditioner (those sitting in air-conditioned rooms), the politics of industrialists, they practise," Gandhi said while addressing an election rally in Sagar, where Congress has been out of power for a decade.
Gandhi, who has been focusing on the Bundelkhand region for quite some time and had also been instrumental in getting a financial package for the area, said farmers wanted to know where did the money sent by the Centre to dig wells go.
Interacting with the crowds gathered to hear him, Gandhi asked them whether they had felt any impact of the "India Shining politics".
"Youth is not happy, farmers are not happy, women are not happy," he said.
In a speech laced with anecdotes like dreams of a "sweating farmer" engaged in agricultural work that his sons or grandsons would some day fly in aeroplanes, to that of village women and youths, Gandhi briefly mentioned Indira Gandhi and said in contrast to BJP's politics of only development, Congress politics takes into account both things -- development as well empowering people.
Seeking to add a personal touch to his associating with people in Bundelkhand, Gandhi recalled that when he had first come to the region, he had suffered mosquito bites and when he had consumed water in a village, it had got his stomach upset.
"But I was happy. Politicians should know the hardships faced by people," he said.
BJP-led NDA had given slogan of 'India Shining' during 2004 Lok Sabha elections, which saw the UPA coming to power, bringing to an end the NDA rule at the Centre.
Image: Rahul Gandhi
© Copyright 2021 PTI. All rights reserved. Republication or redistribution of PTI content, including by framing or similar means, is expressly prohibited without the prior written consent.