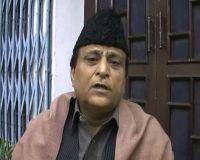 High-profile Uttar Pradesh Urban Development Minister Azam Khan, who is widely known for putting his foot into the mouth, once again propelled everyone into raising their eyebrows when he said that he would not mind getting the Taj Mahal demolished.
Addressing a public function at Muzaffarnagar on Monday, the inimitable Khan said, "Agar log masjid ke bajaye Taj Mahal girane chalein to main unse aage chaloonga.Isliye ki kisee bhi hukmaran ko aam awam ke khazane se apni mahbooba ke liye tajmahal banana ka haque naheen diya ja sakta." (If people were to undertake a march to demolish the Taj Mahal instead of any mosque, I would be the first one to march ahead of them; and that is because I firmly believe that no ruler can have the right to use the state exchequer to build a monument for his lover).
This was not the first time that Khan had caused embarrassment to the Samajwadi Party government through his statements on the 16th century monumental wonder erected by Mughal emperor Shah Jehan.
Way back in 2004, while he was in the same capacity in the then Mulayam Singh Yadav government, Khan had sought to declare the Taj Mahal as a Waqf property.
"Since the Taj Mahal houses the graves of Shah Jehan and his wife Mumtaz Mahal, it cannot be treated anything more than a tomb; hence merit demands that it should be handed over to the UP Sunni Central Waqf Board, that was looking after so many other Sunni graveyards across the state," was the minister's argument for seeking its transfer from the Archaeological Survey of India to the Waqf board that was also entrusted under his charge.
What arrested his strange demand was a counter demand raised by the Shia Waqf Board, which claimed that even though Shah Jehan was a Sunni, Mumraz Mahal was born a Shia, hence it was their privilege to stake claim to the 350-year old monument which figures among the wonders of the world.
Despite repeated attempts, Khan could not be contacted. Meanwhile, one of his detractors in the state government was of the view that there was much more than what meets the eye.
"After all, the Taj Mahal is a huge revenue spinner and get as much as Rs 70 crore annually out of gate money alone," he sought to point out, while adding, "And how can anyone ignore that the entire economy of Agra revolves around the Taj."