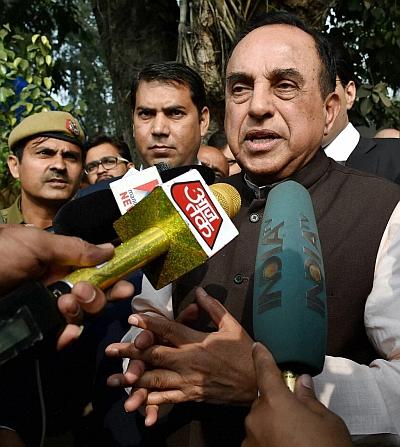 The Ram temple should be built at Ram Janambhoomi (birthplace of Ram) while the Masjid (mosque) on the other side of Sarayu river to resolve the Ayodhya issue, Bharatiya Janata Party leader Subramanian Swamy suggested on Tuesday.
"We were always ready. Mandir and Masjid should be built but Masjid should be built on other side of Sarayu river. The Ram Janambhoomi should be entirely for Ram Mandir," he told reporters in New Delhi.
His response came after the Supreme Court said the Ayodhya dispute must be settled amicably and all parties must hold discussion out of court to find an amicable solution.
Swamy argued that in Saudi Arabia and other Muslim nations, mosque is regarded as the place where 'Namaaz' (prayer) is offered and prayer can be offered at any place.
"My suggestion is that Masjid be built on other side of the Sarayu river and Ram Janambhoomi be handed over for Ram Temple. We cannot change the birthplace of Ram, but Masjid can be made anywhere," he said.
The BJP leader said he wanted the apex court to suggest the name of a mediator on the issue and hoped that the decision in this regard would be made by March 31.
A bench headed by Chief Justice J S Khehar said that such religious issues can be solved through negotiations and offered to mediate to arrive at an amicable settlement.
The observation came after Swamy sought urgent hearing of the issue.
The Parliamentarian had stated that it has been over six years and the matter needed to be heard at the earliest.
REDIFF RECOMMENDS:
-- BJP's response to Ram Mandir will decide course of India's history
-- Ayodhya MLA: 'Ram temple will be built'