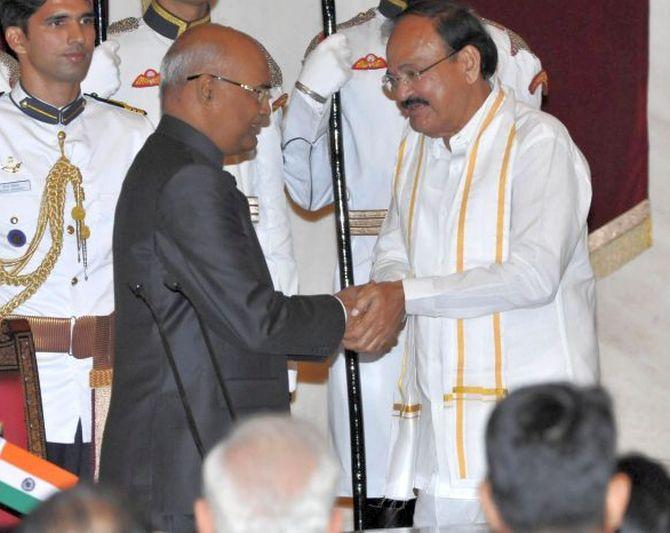 The salaries of the President and the Vice President have been increased to Rs 5 lakh and Rs 4 lakh per month respectively, in a rectification of an anomaly.
Announcing the hike in their salaries in his Budget speech, Finance Minister Arun Jaitley said the emoluments of the President, the Vice President and the Governors were last revised with effect from January 1, 2006.
"These emoluments are proposed to be revised to Rs 5 lakh for the President, Rs 4 lakh for the Vice President and to Rs 3.5 lakh per month for the Governors," he said, amidst thumping of desk by the members in the Lok Sabha.
As of now, the President gets Rs 1.5 lakh per month, the Vice President Rs 1.25 lakh and a Governor of a state Rs 1.1 lakh.
Till now, the President, the Vice President and the Governors continued to get less salaries as compared to the top bureaucrats and service chiefs since the laws were not
amended to rectify an anomaly with the implementation of the 7th Pay Commission's recommendations two years ago.
After the implementation of the 7th Pay Commission's awards on January 1, 2016, the Cabinet Secretary, who is the top-most bureaucrat in the country, gets Rs 2.5 lakh per month and a Secretary in the Union government draws Rs 2.25 lakh per month.
Finance Minister Arun Jaitley also proposed a law for an automatic revision of salaries for Parliamentarians every five years indexed to inflation.
Presenting his fifth straight Budget, Jaitley said there had been a public debate on emoluments paid to Members of Parliament, and the present practice allowing them to fix their own emoluments had invited criticism.
"I am, therefore, proposing necessary changes to refix the salary, constituency allowance, office expenses and meeting allowance payable to Members of Parliament with effect from April 1, 2018," he said.
He added the law would also provide for automatic revision of emoluments every five years indexed to inflation and members would welcome this initiative and "not suffer such criticism in the future".
The remuneration of an MP includes a basic salary of Rs 50,000 per month and Rs 45,000 as constituency allowance, apart from other perks. The government spends roughly Rs 2.7 lakh on every MP per month.
© Copyright 2021 PTI. All rights reserved. Republication or redistribution of PTI content, including by framing or similar means, is expressly prohibited without the prior written consent.