He was billed as the next big thing in Dalit politics in Uttar Pradesh and a challenge for the Bahujan Samaj Party but Mayawati's party is least impressed by the exploits of Chandrasekhar Azad 'Ravan' let alone consider him a threat.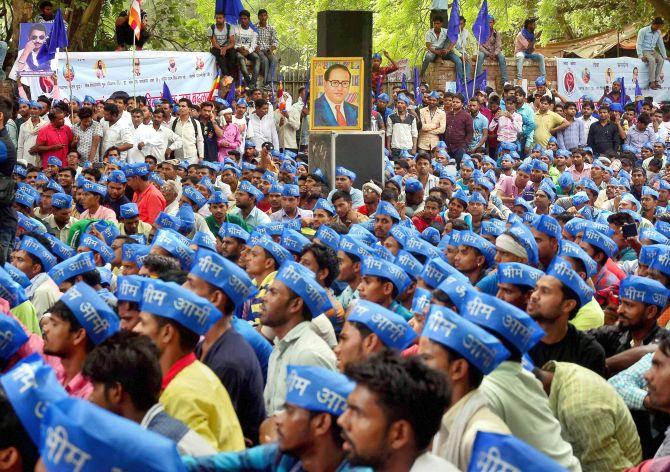 Recently, Chandrasekhar organised a massive Dalit protest in Delhi against "atrocities" by the upper caste in Saharanpur, despite being underground to evade arrest for his alleged role in inflaming caste-based violence in the district.
The presence of around 5,000 supporters carrying blue- themed posters and masks of Chandrasekhar alongside B R Ambedkar's led to observers terming it as the beginning of a new era in Dalit politics and a threat to Bahujan Samaj Party.
Sporting a chevron moustache, a blue scarf and an acquired sturdiness, Chandrasekhar is anything but tame.
Chandrasekhar's 'Bhim army' is based out of Saharanpur from where the founder of BSP, the late Kanshi Ram, began his political career.
While Kanshi Ram got several mentions by Bhim army, the outfit alleges BSP supremo Mayawati seemed to have failed in leaving an imprint on the Dalits.
"Leaders who represent us have done nothing to make our situation better. That is why we had to come up with our own army to protect our brothers from the upper-caste," a member of Bhim army said.
With nearly six lakhs Dalits residing in the district, Saharanpur had been a stronghold for the BSP until recently when the party lost the seats both in general election in 2014 and assembly election this year.
The BSP, whose symbolic colour is also blue, however, downplayed losing ground in the district and refused to acknowledge Bhim army or Chandrasekhar as a threat.
"We lost the election as the Congress-Samajwadi Party alliance led to polarisation," said BSP's Jagpal Singh who lost the assembly election in Saharanpur by nearly 12,000 votes to Masood Akhtar of the Congress.
He preferred calling the members of Bhim army as his children who were young and committed to Dalit rights albeit not integrated enough to run an oraganisation or a party.
"They used WhatsApp to gather Dalits for the protest in Delhi. It did not involve hard work while the BSP is committed to the idea of Bahujan (people in majority) and brotherhood," Singh told PTI.
The Bhim army, meanwhile, has alleged police action on their members after the violence.
"They are saying we received funds from Naxalites. We have no connection with them yet, but have to rethink if we do not get justice," Jai Bhagwan Jatav, a confidant of Chandrasekhar, said.
The tension between Dalits and Thakurs snowballed into a full-blown clash on May 5 in Saharanpur's Shabbirpur village. The district is simmering following a spate of caste clashes and killings.
Saharanpur police, however, said that it was probing the case only through criminal angle.
"It hardly matters what their ideology is, and we don't want to get involved in that. We are investigating the matter from a criminal angle," senior superintendent of police Prabal Pratap Singh said.
It has been close to a month since an FIR was registered against Chandrasekhar but he is yet to be nabbed, and continues to reach out to his supporters through WhatsApp and Facebook videos.
"We (Bhim army) are not a political outfit. We are representatives of our community who will not sit silently anymore," 30-year-old Chandrasekhar, a lawyer from the Chamar community, said in a Facebook video on May 28.
Saharanpur is the north-most district of Uttar Pradesh. Scheduled caste population in the district is about 21 per cent of the total population which is nearly 29 lakhs.
IMAGE: Dalit activists at a Bhim Sena rally in Delhi. Photograph: PTI Photo