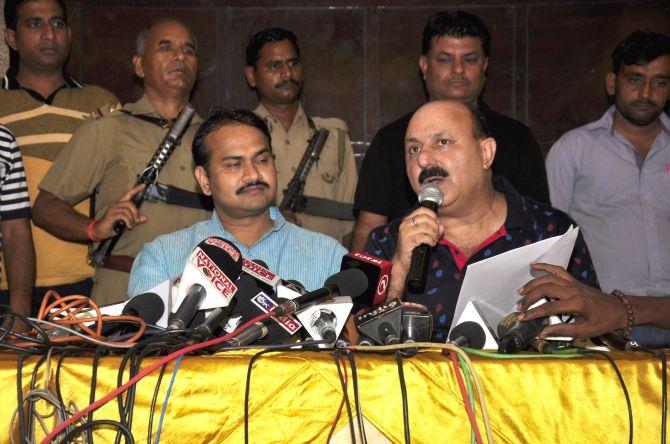 IMAGE: BSP MLAs Romi Sahni, right, and Brijesh Verma, left, address a press conference in Lucknow on Wednesday. Photograph: Sandeep Pal

In a fresh rebellion in the Bahujan Samaj Party, MLAs Romi Sahni and Brijesh Verma on Wednesday criticised party workers for sloganeering against expelled Bharatiya Janata Party leader Dayashankar Singh's family and accused the party leadership of demanding 'huge sums' for allotting tickets for the 2017 Uttar Pradesh assembly polls.
"We condemn Singh's remarks against BSP chief Mayawati and also oppose the slogans raised during the BSP protest...his 12-year-old daughter cannot be punished for what Singh has said...our sympathy is with the family," Sahni and Verma, the MLAs from Palia and Mallawan respectively, told reporters in Lucknow.
They alleged that the BSP was getting a 'bad name' because of the 'huge sums' being demanded for party tickets which was against the ideals of both B R Ambedkar and Kanshi Ram.
They said anywhere between Rs 2 crore and Rs 10 crore was being demanded for BSP tickets for the upcoming Uttar Pradesh polls and even sitting MLAs were not being spared.
They claimed that both of them were called to Mayawati's residence on July 6 and, in the presence of the party chief, were asked to pay Rs 5 crore for Palia and Rs 4 crore for Mallawan seats by BSP national general secretary Naseemuddin Siddiqui, adding that they were 'warned' that their tickets would be cancelled if they did not pay up.
"Tickets are given to whosoever gives the highest amount. This is very sad...money is being demanded through party coordinators," alleged the two MLAs.
Replying to a query, they clarified that they were not quitting the party.
The latest rebellion comes weeks after Mayawati's party suffered back-to-back jolts when senior leaders Swami Prasad Maurya and R K Chaudhary quit the BSP, followed by former MLA Ravindra Nath Tripathi. All of them accused her of 'auctioning' party tickets.
Regretting that 'rampant money power' in the party was tarnishing its image, the two MLAs claimed that the BSP would otherwise have touched 'new horizons' and Mayawati could have become the 'prime minister of the country'.
Replying to another query, they said they were recently expelled by the party on allegations of maintaining contact with expelled leader Jugal Kishore but were taken back four days later after they were made to sign a paper.
Both claimed they were 'loyal' to the BSP and denied rumours that they had voted against the party's nominees in the recent Rajya Sabha and Legislative Council elections.
"It was an open vote in the Rajya Sabha and in the MLC elections too, we were given a code. There is no question of us voting against the party nominees," they asserted.
Alleging that there was an 'atmosphere of terror' in the party, the MLAs claimed any kind of interaction with leaders of other political parties was not 'liked' in the BSP.
Soon after the two MLAs expressed their views against the BSP, the party said both were expelled on grounds of indiscipline sometime ago and were taken back after they tendered a written apology.
The party high-command had given them a chance to 'rectify' their error on the condition that they will not get tickets for the Uttar Pradesh polls. They had been 'making rounds' of other parties for tickets and were now levelling 'unfounded allegations', the party said.
Maurya, who was the Leader of Opposition in the Uttar Pradesh assembly, has floated a new outfit, Loktantrik Bahujan Manch. He claims the support of over 10 sitting BSP MLAs.
Chaudhary on Tuesday organised a rally here on the occasion of Chhatrapati Shahuji Maharaj's birth anniversary under the aegis of Bahujan Samaj Swabhiman Sangharsh Samiti where Bihar Chief Minister and Janata Dal-United president Nitish Kumar was the chief guest, heralding a new political equation in the state where assembly polls are due early next year.
Maurya is a prominent Other Backward Caste leader, while Chaudhary is a Dalit, the two important votebanks of the BSP.