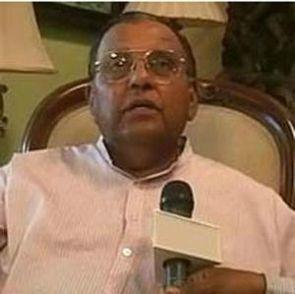 Days after he defended Gujarat Chief Minister Narendra Modi for his "puppy" remarks, Bahujan Samaj Party on Wednesday expelled its Hamirpur MP Vijay Bahadur Singh for making statements which went against the "philosophy and principles" of the party.
A statement from the party said despite repeated warnings, Singh continued to make statements which were not in sync with party lines, therefore, he was being expelled.
A senior party leader said Lok Sabha Speaker Meira Kumar has been informed about the party's decision to expel Singh.
Singh, who is a first time MP from BSP, has been denied ticket for the next Lok Sabha elections.
Angry at Singh's defence of Modi for his "puppy" remarks, BSP chief Mayawati had slammed him and had distanced herself from the statement.
While terming his remarks as personal, she had recently said that the party has taken seriously Singh's "disease" of making public statements.
On Saturday last, Singh had defended Modi for his 2002 riots comments saying it showed that the Gujarat chief minister was a "sensitive" person and his comments have been misinterpreted.
"If he says that he feels bad if a puppy gets crushed under the wheels of his car, then it shows that he is a sensitive and compassionate person. These are my personal views, but his remarks should not be misinterpreted. He is not referring to any community...his remarks are being misinterpreted," Singh had said.
The BSP MP said Modi's statement is "100 per cent correct and it is in the interest of the nation. Those who oppose him are doing so for political interests. Those who oppose his remarks are 'rashtra drohis' (anti-nationals)."
Image: Expelled BSP MP Vijay Bahadur Singh
© Copyright 2021 PTI. All rights reserved. Republication or redistribution of PTI content, including by framing or similar means, is expressly prohibited without the prior written consent.