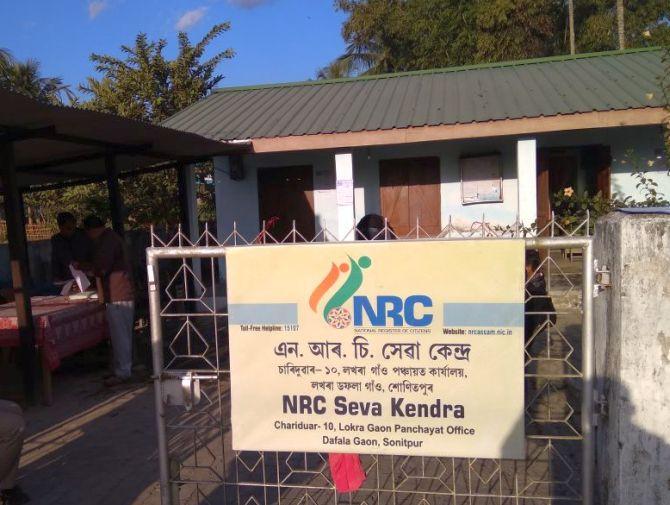 An assistant sub-inspector of the Border Security Force from Assam and his wife were declared foreigners by a tribunal without their knowledge, his family claimed on Friday.
Muzibur Rahman, the BSF man who is now posted in Punjab, and his wife were declared foreigners by the Jorhat Foreigners' Tribunal in December last year but the family was informed about this only last month, they claimed.
Talking to reporters at Merapani in Golaghat district, Rahman's father Bapdhan Ali said except the two, everyone in his family have been included in the National Register of Citizens (NRC), the final version of which will be published on August 31.
"I request the government to take steps so that he continues to be an Indian," Ali told a news channel.
He claimed that their family members have legacy data and land documents to establish their Indian citizenship.
Ali said, "We are Indians. The name of every member of my family is in the NRC but not of Muzibur who is working in the BSF in the service of the nation, and his wife."
One person identified as the lawyer of the family said Rahman was declared a 'D' (Doubtful) voter in July 2018 of which he was not aware and then the Foreigners' Tribunal declared him a 'foreigner' in December.
But he did not get any summon to appear for hearing to present his case, the lawyer claimed.
The family said their village headman informed them on July 29 that Rahaman and his wife were summoned to present themselves in the Jorhat Circuit House.
As he was away in Punjab, his father and brother-in-law went there and they were told by government officials that the two were declared 'foreigners' in December 2018.
"Probably those engaged in the NRC updating exercise have not done their duty properly. We want an error-free NRC and will always cooperate with the process. I urge the government to ensure that genuine Indian citizens are not harassed," Rahman told the channel over the phone from Punjab.
Earlier, Kargil war veteran Mohammad Sanaullah and Central Industrial Security Force jawan Mamud Ali were also declared foreigners by the Foreigners Tribunal.
Soon after the Sanaullah incident, Army chief Gen Bipin Rawat had said no jawan will be allowed to face any difficulties if his name does not come in the NRC and that the force will extend all assistance in this regard.
Names of over 40 lakh people were not included in the complete draft of the NRC published last year.
Assam, which had faced an influx of people from Bangladesh since the early 20th century, is the only state having an NRC which was first prepared in 1951.
It is being updated now under the supervision of the Supreme Court.
© Copyright 2021 PTI. All rights reserved. Republication or redistribution of PTI content, including by framing or similar means, is expressly prohibited without the prior written consent.