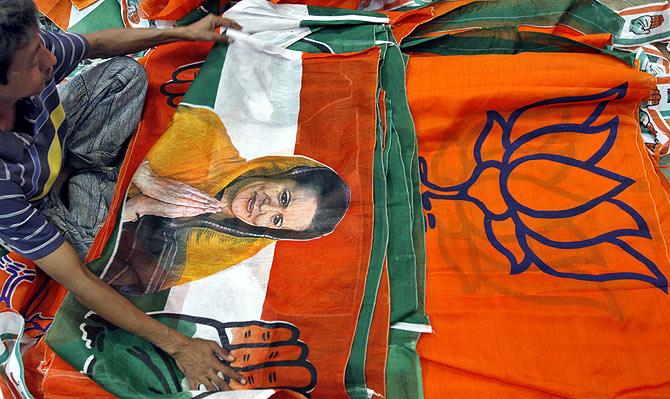 With the ruling Bharatiya Janata Party and the opposition Congress locked in a high-decibel battle for the Gujarat polls, two members of a family are contesting for the rival parties while keeping aside their personal relations.
Jaysukh Kakadiya is contesting as a Congress candidate from Dhari assembly segment in Amreli district, while his brother-in-law Kamlesh Kanani is the BJP's nominee from the neighbouring Savarkundla seat in the same district.
Kakadiya and Kanani are related to each other as their wives are sisters.
As per Kakadiya, his candidature was obvious as he claimed to have been with the Congress for over two decades.
Same was the argument of Kanani, who also claimed to be a worker of the BJP for over 20 years.
Asked about representing the rival parties, whose leaders are attacking each other everyday during the poll campaign, Kakadiya said: "I want to serve my people and want to do it through my party."
"Besides, I have enough numbers of committed voters. And we don't need to bring politics into our family relations. We are keeping it separate," said Kakadiya, who is from the Patidar community.
He claimed to have over 75,000 voters from his community in his constituency.
According to the Election Commission's website for Gujarat, that there are 2,11,845 voters in the Dhari assembly constituency.
Kanani, who is not a Patidar but is a key leader of the BJP in the region, gives credit to his work for being nominated by the ruling party.
He says, "We are brothers-in-law for quite some time. Our political affiliations are known to the people as well as to our party leaders."
"Hence, our merit cannot be questioned because of a coincidence that we both are relatives but have separate political affiliations," Kanani says.
There are 2,38,315 voters in the Savarkundla assembly constituency of Amreli, as per the EC's website.
Voting will take place in Amreli on December 9.
Gujarat will vote in two phases -- on December 9 and 14 -- to elect a new 182-member Assembly. The counting of votes will take place on December 18.