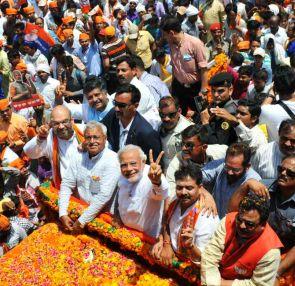 An Indian-origin British MP who had lodged an official complaint with the BBC over its "one-sided" coverage of Prime Minister Narendra Modi, has now taken the matter to higher authorities in the UK.
Priti Patel, appointed 'Indian Diaspora Champion' by Prime Minister David Cameron, had written to BBC Director General Tony Hall last month expressing her concerns over a 'Newsnight' programme aired on May 16, the day India's general election results were declared.
The programme's editor has now responded denying any bias in BBC's coverage on the day but Patel termed the as response "dismissive" and "smug" and has written to UK Culture Minister Sajid Javid.
Patel, a Conservative Party MP from Witham, has also urged the Indian community in Britain to continue registering their complaints to the BBC.
In a letter dated June 18, 'Newsnight' editor Ian Katz maintains that the coverage offered viewers a "broad and balanced" view on the elections.
"The presenter Yalda Hakim referred to him (Modi) as a controversial figure because the Gujarat riots remain an issue which attracts controversy, but we were at pains to reference the official verdict every time the matter was raised," he writes.
This was in specific reference to Patel's objection to Modi being called "controversial" as she felt that by using this reference, "the BBC, who should be impartial, is giving acceptance to the political position of Modi's opponents rather than reporting objectively".
"Our coverage on the night reflected the breadth of the story, the undoubted controversy surrounding Mr Modi and the positive reasons for his electoral success...I therefore reject your suggestion that Newsnight in any way 'tarnished' the image of India," adds Katz in his letter.
Patel, however, maintains that the coverage offended many Indians in the UK.
"To continue representing the views of those concerns, I have written to the Secretary of State for Culture to ask that he raises the BBC's smug response directly with Lord Hall, and I urge all those concerned to continue writing directly to Lord Hall to demand better from the BBC," she said in a statement.
Patel added, "While the response is extremely disappointing, it is not surprising that the BBC has dismissed the concerns of many within the world's Hindu community about its recent Newsnight coverage".
"There is not the slightest hint of an apology to anyone that was offended, and there is no mention that BBC Newsnight will even consider changing the nature of its reporting when it is met with such deep disapproval.
"The BBC should be ashamed of not only its shoddy journalism, but the way it responds to criticism. This response along with the programme's coverage of the elections adds to the insulting way in which India and the largest democratic elections in the world have been portrayed," Patel said.