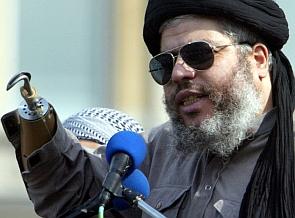 A fiery British cleric accused of facilitating violent jihad in Afghanistan and setting up a terrorist training camp in the United States was convicted by a court in New York on 11 terrorism charges and faces a maximum prison sentence of life.
Mustafa Kamel Mustafa, 56, who also went by the name of 'Abu Hamza', will be sentenced in September before the United States District Judge Katherine Forrest, who presided over the trial in Manhattan federal court.
Mustafa, 56, a naturalised citizen of the United Kingdom, was extradited from the United Kingdom to the US in October 2012.
He was convicted for his participation in a hostage taking in Yemen in 1998 that resulted in four deaths, a conspiracy to establish a terrorist training camp in Oregon in 1999 and supporting violent jihad in Afghanistan in 2000 and 2001.
Following a four-week trial and two days of deliberations, the jury unanimously convicted him on of each of the 11 charges that he faced.
US Attorney General Eric Holder said Mustafa supported the cause of violent extremism "in both word and deed". "His conviction is as just as it was swift. This case is all the more noteworthy since it continues a trend of
successful prosecutions of top terrorism suspects in our federal court system."
"With each efficiently delivered guilty verdict against a top Al Qaeda-linked figure, the debate over how to best seek justice in these cases is quietly being put to rest," Holder said.
The conviction was a significant victory for Manhattan's top federal prosecutor India-born Preet Bharara. Following the guilty verdict Bharara said Mustafa is convicted, "not for what he said, but for what he did".
"Abu Hamza was not just a preacher of faith, but a trainer of terrorists. As we have seen in the Manhattan federal courthouse in trial after trial -- of Ahmed Ghailani, of Suleiman Abu Ghayth, and now of Abu Hamza -- these trials have been difficult, but they have been fair and open and prompt."
"These trials demonstrate that in an American civilian courtroom, the American people and all the victims of terrorism can be vindicated without sacrificing our principles. And that is one reason our civilian court system is admired the world over," Bharara said.
The terrorism charges Mustafa faced included multiple counts of providing material support to the Al Qaeda. He also conspired in the hostage taking in Yemen in December 1998 when hostage-takers stormed a caravan of sport utility vehicles carrying 16 tourists, including two United States citizens, and took the tourists hostage by force.
He had provided the leader of the hostage-takers with a satellite telephone, and subsequently spoke with him on that satellite telephone the night before the hostage taking.
In addition, from the spring of 2000 through late 2001, he provided goods and services to the Taliban by directing his followers to deliver money to Taliban-controlled parts of Afghanistan.

Image: Radical Muslim cleric Sheikh Abu Hamza al-Masri addresses the sixth annual rally for Islam in Trafalgar Square, London, August 25, 2002. Photograph: Ian Waldie/Reuters