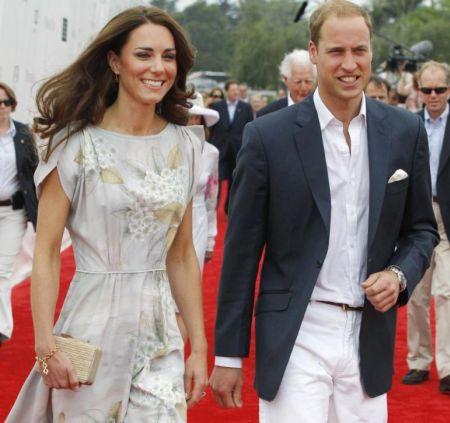 The Duke and Duchess of Cambridge will visit India and Bhutan in April 2016 as the royals arrive in India on April 10, before travelling to Bhutan on April 14.
The Royal Tour concludes back in India on Saturday, April 16.
The visit is being undertaken at the request of Her Majesty's Government. This will be the first time the royal couple have visited either country.
"In India, The Duke and Duchess will see a variety of aspects of contemporary Indian life, focusing on young people, sport, entrepreneurship, Indian efforts to relieve urban poverty, the creative arts, and rural life. Their Royal Highnesses will begin their visit in the creative and business hub of Mumbai. They will then travel to the capital New Delhi, which is the seat of history and politics in the world's largest democracy," a statement from the KensingtonPalace said.
In Kaziranga National Park, the Duke and Duchess will experience the rich variety of wildlife and also pay tribute to the rural traditions of the communities who live around the park, the statement said.
"In Bhutan, the Duke and Duchess of Cambridge will meet the King and Queen of Bhutan, and continuing the relationship between their two families, they will also have the opportunity to learn more about the heritage and culture of this beautiful mountain kingdom and its people."
The Duke and Duchess will conclude their tour back in India at the UNESCO World Heritage site the Taj Mahal on April 16, allowing them the chance to thank the people of India for their hospitality by visiting the iconic landmark.
"The Duke and Duchess are very much looking forward to their tours of India and Bhutan. Their visit to India will be an introduction to a country that they plan to build an enduring relationship with. They will pay tribute to India's proud history, but also are keen to understand the hopes and aspirations of young Indian people and the major role they will play in shaping the 21st century," a KensingtonPalace spokesman said.
This tour, coming shortly before the Queen's 90th birthday, will also allow the Duke and Duchess to pay tribute to Her Majesty's huge contribution to the diplomatic success of Britain and the Commonwealth.
Following is the itinerary of the Duke and Duchess' visit:
>> Mumbai (April 10-11)
>> Delhi (April 11-12)
>> Kaziranga (April 12-13)
Agra (April 16)
In Bhutan, The Duke and Duchess will visit:
Thimphu (April 14-15)