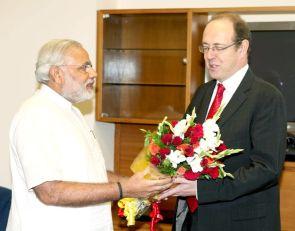 Britain's interests in Gujarat were best served by engaging with the elected leadership there, the British high commissioner to India James Bevan in New Delhi said Thursday while clarifying his country's decision to end a decade-long boycott of Chief Minister Narendra Modi.
In his first 'twitter interaction', Bevan also said "it is the views" of Indian voters that count when asked how the UK views Modi and his role at the national level.
"We judged that the UK's interests in Gujarat were best served by engaging with elected leadership of state," he tweeted when asked about the reasons for ending the boycott last year.
In October last year, Bevan had met with Modi in Gujarat.
The British government, which had boycotted Modi after the 2002 riots, had asked Bevan to visit Gujarat and meet Modi and other senior officials in the state to discuss a range of issues of mutual interest and explore opportunities for closer cooperation.
Meanwhile, asked about the deportation of former IPL Chairman Lalit Modi from the UK, Bevan said he can't comment on individual cases but "we co-operate closely with the Indian authorities on judicial matters".
In a bid to allay fears over its new student visa policy, he said all "genuine" Indians students are welcome and stressed there is no limit on numbers.
Calling Indians amongst the most successful of all ethnic groups in UK, Bevan said nine out of 10 Indians who apply for visa get the same.
Asked if he agreed that the UK's rigid immigration policy is hurting the business and education sector, he said no.
"No. #Britain is open for business & we welcome all legitimate students. 9 out of 10 Indians who apply for a visa get one. #askHC," he tweeted in his first live twitter interaction.
In reply to another tweet, he said "making clear the #UK welcomes all genuine #Indian students. There is no limit on numbers".
Image: British High Commissioner James Bevan meets Gujarat CM Narendra Modi in October, 2012
Photograph Courtesy: Narendra Modi's website
© Copyright 2022 PTI. All rights reserved. Republication or redistribution of PTI content, including by framing or similar means, is expressly prohibited without the prior written consent.