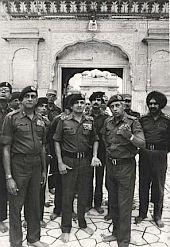 It may be a case of history repeating itself as the defence company at the heart of parliamentary queries over Britain's involvement in Operation Bluestar is none other than AgustaWestland, which recently lost out on a lucrative contract to supply helicopters to India over allegations of corruption.
Britain's Opposition Labour Member of Parliament Tom Watson, responsible for publicising recently declassified documents that imply British collusion in planning Operation Bluestar 30 years ago, asked British Prime Minister David Cameron to directly question the ministers in charge at the time under former Prime Minister Margaret Thatcher if help was offered to India in order to secure a helicopter deal for the firm.
"On his Amritsar inquiry, instead of ordering the civil servant to investigate, why does the prime minister not just ask Lords Geoffrey Howe and Leon Brittan what they agreed with Margaret Thatcher and whether it had anything to do with the Westland helicopter deal at the time," Watson said in the House of Commons on Wednesday.
Cameron, who has instructed his Cabinet Secretary Jeremy Heywood to inquire into Britain's role, if any, in the 1984 operation, dismissed any link with defence deals as a "conspiracy theory".
"I fear that the honourable gentleman might have gone a conspiracy theory too fast on this one. Look, it is very important that we get to the bottom of what happened, and that is why I have asked the cabinet secretary to lead this review," Cameron said in the House of Commons.
"He will establish this urgently and establish the facts. The process is underway. I want it to be fast; I want it to find out the truth; and the findings will be made public," he said.
"I remember and will never forget my visit to the GoldenTemple in Amritsar. It is one of the most beautiful and serene places anywhere on this planet, and what happened at Amritsar 30 years ago led to a tragic loss of life," Cameron said, reminiscing his last year's India visit.
"It remains a source of deep pain to Sikhs everywhere. Prime Minister Singh, in my view, was absolutely right to apologise for what has happened, and I completely understand the concerns that these papers raise, so let us wait for the outcome of the review by Jeremy Heywood," he said.
Cameron on Wednesday appeared to downplay the likelihood of an inquiry finding evidence that Britain was to blame for the operation.
"I do not want to prejudge the outcome, but I would note that, so far, it has not found any evidence to contradict the insistence by senior Indian army commanders responsible at the time that, on the responsibility for this, it was planned and carried out solely by the Indian army. It is important to put that, but we do need an inquiry, so that we can get to the bottom of this," he said.
Image: General A S Vaidya, Chief of the Army Staff, flanked by Lt General K Sundarji (left) and Major General K S Brar, outside Shri Harmandir Sahib at the Golden Temple in Amritsar on June 19, 1984, after Operation Blue Star.