Achieving a major milestone, the Mumbai civic body on Tuesday completed the excavation of a second underground tunnel of the coastal road project at Priyadarshini Park in the city, while Maharashtra Chief Minister Eknath Shinde said the key infrastructure venture will be extended to the distant suburb of Virar.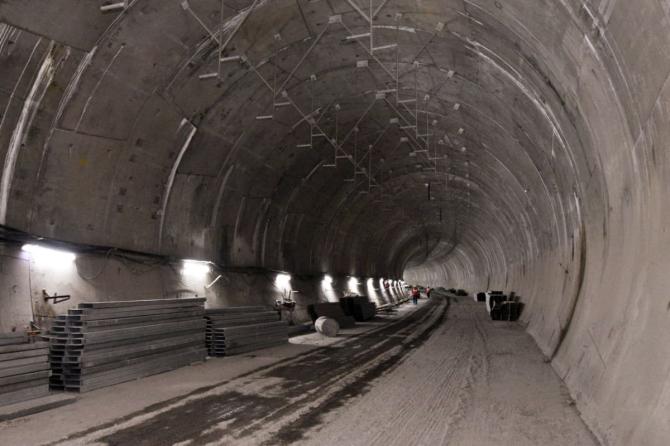 The Brihanmumbai Municipal Corporation (BMC) in a release, said the "breakthrough" of the second tunnel of the ambitious project, for which the work started nearly 13 months ago, was achieved in the presence of Shinde and Deputy Chief Minister Devendra Fadnavis.
According to civic officials, tunnel-digging work between Marine Drive near Princess Street flyover in south Mumbai and Priyadarshini Park has been fully completed, while the work on the actual road (stretching more than 10km) is 75 per cent complete.
The length of each of the twin tunnels is 2.070 metres with an outer diameter of 12.19 metres, while the finished diameter of the tunnel will be 11 metres, the civic body said.
"The tunnels were constructed by India's largest diameter (12.19 metres) tunnel boring machine," a BMC official said, adding that for the first time in the country, Saccardo Ventilation System will be installed in a road transport tunnel.
Each tunnel will have three lanes, while the remaining portion of the coastal road will have two carriageways of four lanes each. The tunnels will be at the depth of 20 metres under the seabed.
The 10.58 km-long road is being built from Princess Street Flyover to the Worli end of the Bandra Worli Sealink.
The work of digging the second tunnel using a Tunnel Boring Machine (TBM) named 'Mavala' started on April 26, 2022. The digging of the first tunnel was completed on January 10, 2022.
The work on the Rs 12,721 crore project commenced on October 13, 2018, and is scheduled to be completed in November this year, the BMC said.
Speaking on the sidelines of the event, Shinde said the coastal road project will ease traffic congestion in Mumbai and stretch further down to the distant suburb of Virar, and prove to be a lifeline of the financial capital.
"The coastal road will go further down to (the far western suburbs of) Dahisar and Virar and will not be restricted to Worli (in south Mumbai). This will provide relief to motorists travelling to the western suburbs, where the road traffic is bumper to bumper," the chief minister said.
The project will be named after Maratha warrior king Chhatrapati Sambhaji Maharaj, he said.