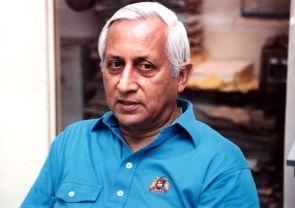 Three Sikh men tried to slash the throat of Lieutenant General (retd) Kuldip Singh Brar in a "revenge attack" on the streets of London, a UK court was told.
Mandeep Singh Sandhu, 34, Dilbagh Singh, 36, and Harjit Kaur, 38, who pleaded not guilty to the charge of "unlawful wounding with intent to do grievous bodily harm" in relation to the attack, which took place last September, appeared for the second day of trial on Tuesday at Southwark Crown Court.
The three along with 33-year-old Barjinder Singh Sangha who has already admitted his part in the attack, believed Lt Gen (retd) Brar to be responsible for atrocities committed at the Golden Temple of Amritsar in 1984, the prosecution alleged.
Prosecutor Annabel Darlow said that Kaur tracked the retired soldier as he holidaying in London's West End with his wife Meena.
78-year-old Brar, who commanded the Operation Blue Star in 1984, was on a private visit to London with his wife when the suspected Khalistan sympathisers attacked them.
Darlow added that her case would prove that Kaur passed on the Brars' whereabouts to the attackers on the day of the alleged assault in September last year.
Sandhu and Dilbag Singh are accused of carrying out the attack itself. All three standing trial have been charged with wounding the 78-year-old general with intent.
Sangha has admitted to the same charge and will be sentenced at the end of the trial.
"Kuldip Brar was slashed right across the neck with a knife, he sustained very deep cuts to his face and neck," said prosecutor Annabel Darlow.
"Each took part in an enterprise to cause Kuldip Brar serious harm," she added.
Lt Gen (retd) Brar giving evidence through a videolink from India, said that one website had declared him the "number one enemy of the Sikhs".
Another threat he said he received read "there have been seven attempts on his life which have not succeeded, but the eighth one will".
As the prosecution opened its case, the jury saw CCTV evidence Darlow said showed the men running away from the scene of the crime.
The jury also saw footage the prosecution said showed Brar falling to the floor immediately after the attack.
At earlier hearings, Sandhu has admitted to being present at the scene but not participating in the attack, while Dilbagh Singh had refused to confirm or deny his presence on the day.