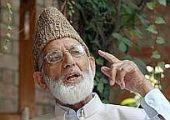 Criticising co-education in schools and colleges, hardline Hurriyat leader Syed Ali Shah Geelani on Thursday said the Jammu and Kashmir government was promoting 'immoral activities' by keeping girls and boys shoulder to shoulder.
"Young boys and girls are kept together in co-education system and are shoulder to shoulder with each other. You are keeping fire and hay together and no one can save the hay from burning," Geelani told mediapersons at his residence in Srinagar.
He said the government was promoting 'immoral activities' as young girls and boys in the state were not being provided moral and religious education in schools.
Geelani said parents and the elderly must keep vigil on young boys and girls. The Hurriyat hawk lashed out at the government for giving patronage to opening of liquor shops in the state and taking pride in the revenue generated from liquor sale.
"To be proud of opening more liquor shops is not the way to make a 'khushaal Kashmir'," Geelani said.
"Roads and palaces are not the characteristics of a nation, but the nation's character lies in its moral values," he said. Geelani had on Wednesday called for a conference of Ulemas and prayer leaders on the issue of growing "immorality" in society.
The conference was allowed to happen by the state government, he said.