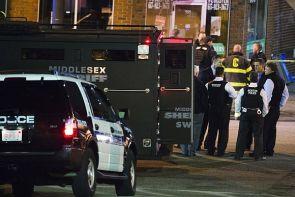 The lone surviving Boston bombings suspect Dzhokhar Tsarnaev, who was injured in a deadly shootout with police here last week, was on Friday transferred from a hospital to a prison medical centre in Massachusetts.
Chechen-origin Dzhokhar, 19, has been charged with conspiracy to use weapons of mass destruction and faces death penalty if convicted.
Dzhokhar Tsarnaev has been transported from the BethIsraelDeaconessMedicalCenter and is now confined at the Bureau of Prisons facility FMC Devens at Fort Devens, Massachusetts," Drew Wade, spokesman for the US Marshals said in a statement.
The facility is about 65 kilometres from the Boston-area hospital where Tsarnaev has been recuperating after he was found critically wounded.
He was arrested from a boat in the backyard of a house in a Boston neighborhood on April 19, he was being treated in a city hospital of injuries including gun shots while escaping from a police gun fire on the night of April 18 in which his elder brother and the main suspect Tamerlan, 26, was killed.
The Boston Marathon bombings on April 15 killed three and wounded 264.