Indian intelligence agencies say that in western countries lone warriors, working independent of terror outfits, are carrying out acts of terrorism, Vicky Nanjappa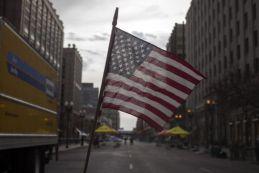 Indian Intelligence agencies say that the Boston bombings show that the threat from a highly motivated person to risk his life and carry out an attack is becoming a trend in the world of terrorism.
Without pointing a finger at any terrorist outfit, Indian agencies say that the fact that two bombs were placed together to carry out destruction is an indication that it was an act of terror. But who could have done it?
Agencies say that in western countries there are lone warriors who attempt to carry out acts of terrorism. It is a recent trend that that began with the Glasgow bombings. Networking is not easy for terror outfits and they are constantly being monitored.
A single player is one who looks up to a terrorist organisation or their leader for inspiration. He does not have to visit a fundamentalist Abu Hamza in London or go to Afghanistan to get trained. Everything is available on his laptop. A speech by terrorist leader Anwar Awlaki is good enough for motivation for a fundamentalist, the Indian Intelligence Bureau says.
There was a specific plan in mind when groups like the Al Qaeda decided to push fanatical content online. They were well aware that post 9/11 it would be next to impossible to carry out a full-fledged strike in the United States.
Stories of torture in the US, the events in Iraq and Afghanistan dominated the web. For the Al Qaeda if one out of ten million is inspired, it is good enough.
All this indoctrinated person has to do is read up material on how to make a bomb and plant it. This person is not in contact with any outfit or individual and works alone. He is considered to be a proxy for the terrorist outfit. Interestingly, in the case of Kafeel Ahmed, the Glasgow bomber, the terrorist group which he subscribed to did not even know him. He subscribed to the Al Qaeda's ideology but had not even attended a single camp by them. The case was similar in the New York bombing attempt.
C D Sahay, former boss of the Research and Analysis Wing, says that lone warriors could spin into a major problem in the years to come. "I would not point a finger at any particular organisation as I believe that the FBI is more than capable of providing the answers in quick time," he said.
Intelligence agencies also question if the Boston bombings were timed with the drawdown from Afghanistan.
Let's not forget that neither the Al Qaeda nor the Taliban have been wiped out as yet. Would they carry out an attack now when the US is withdrawing? The Taliban and the Al Qaeda are well-aware that in case of a blast it could lead to the review of the decision by the US to pull out, Sahay points out.