Boris Nemtsov, a Russian opposition politician and former deputy prime minister who was a harsh critic of President Vladimir Putin, was shot dead near the Kremlin in central Moscow late on Friday.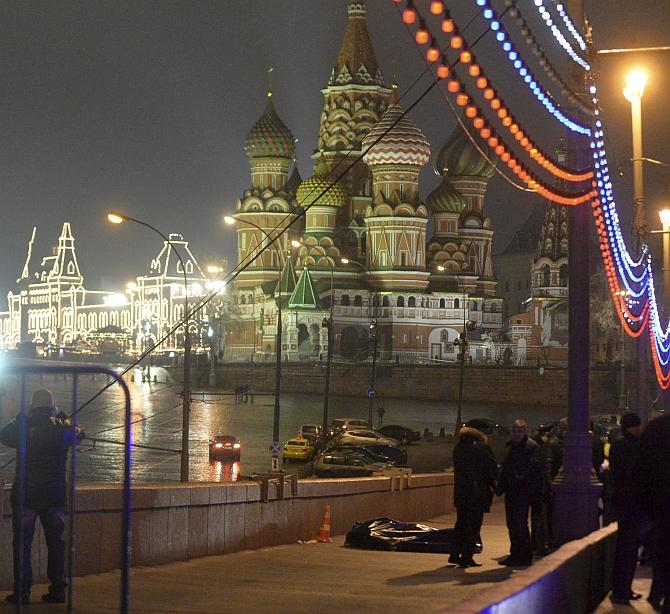 Image: A view shows the covered body of Boris Nemtsov, with St Basil's Cathedral seen in the background, in central Moscow. Photograph: Pavel Bednyakov/Reuters
An unidentified attacker in a car shot Nemtsov four times in the back as he crossed a bridge in view of the Kremlin, police said.
He died hours after appealing for support for a march on Sunday in Moscow against the war in Ukraine.
Russian President Vladimir Putin has condemned the murder.
"Putin noted that this cruel murder has all the makings of a contract hit and is extremely provocative," presidential spokesman Dmitry Peskov said in remarks carried by Russian news agencies.
Mikhail Kasyanov, a fellow opposition leader, later told media persons: "That a leader of the opposition could be shot beside the walls of the Kremlin is beyond imagination. There can be only one version: that he was shot for telling the truth."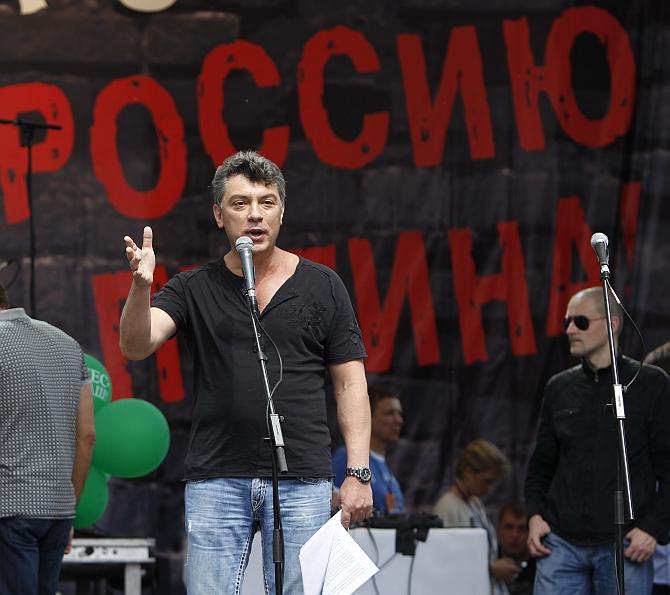 Image: A previous photo of Opposition leader Boris Nemtsov speaking at an anti-government protest in Moscow. Photograph: Maxim Shemetov/Reuters
Nemtsov was a vocal critic of recent Russian actions in Ukraine -- including the annexation of Crimea and support for rebels in eastern Ukraine. The Sunday rally was being billed as an anti-war protest against Russia's involvement there and increased military expenditures as Russia's economy continues to suffer under the weight of falling oil prices and Western sanctions.
Ilya Yashin, another opposition activist, told Russian newspaper Kommersant that at the time of his murder Nemtsov was preparing a report on the participation of Russian soldiers in Ukraine.
Earlier this month, Nemtsov, in an interview with the Sobesednik newspaper, had said that his 86-year old mother was afraid that Putin could have him killed for his opposition activities. Asked if he had such fears himself, he responded by saying: "If I were afraid I wouldn't have led an opposition party."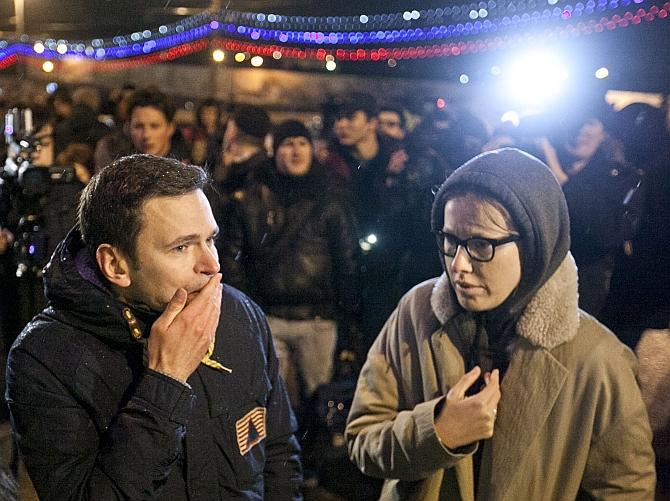 Image: Ilya Yashin (left) and Ksenia Sobchak, Russian opposition activists and acquaintances of Boris Nemtsov, react as they visit the place where Nemtsov was shot dead. Photograph: George Malets/Reuters
Speaking on radio just a few hours before his death, he reportedly harshly criticized Putin for plunging Russia into the crisis by his "mad, aggressive and deadly policy of war against Ukraine."
"The country needs a political reform," Nemtsov said on Ekho Moskvy radio. "When power is concentrated in the hands of one person and this person rules for ever, this will lead to an absolute catastrophe, absolute."