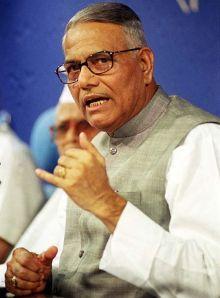 India is on the diplomatic warpath, and justifiably so.
The handcuffing of diplomat Devyani Khobragade and her reported strip-search in New York for alleged fraud in connection with her housekeeper's visa has incensed Indian leaders, cutting across political lines.
Tempers appear to be frayed, emotions appear to be incensed.
Surely, none of it warrants the statement which like Yashwant Sinha, once this nation's external affairs minister, made on Tuesday, December 17.
To quote Mr Sinha: 'Media has reported that we have issued visas to a number of US diplomats' companions.'
'Companions means that they are of the same sex. Now, after the Supreme Court ruling upholding Section 377, it is completely illegal in our country, just as paying less wages was illegal in the US. So, why does the Government of India not go ahead and arrest them and punish them?'
'Since same-sex relationships are illegal in this country, those diplomats who are into it should be arrested, just as those in the US paying less wages are in the wrong following the US law.'
Even if one tries to understand the emotions behind his reported remarks, one would have expected a former minister of the Indian Union to display more sensitivity towards the LGBT community who have been waging a long struggle to be decriminalised by the law, a struggle that every right-thinking individual in this country know to be a just one.
Given the upsurge of emotions over the unfairness of Section 377, Mr Sinha has displayed insensitivity towards the LGBT community.
For this, he deserves a Boo!
Click on the BOO icon below to lodge your protest against Yashwant Sinha's remark.