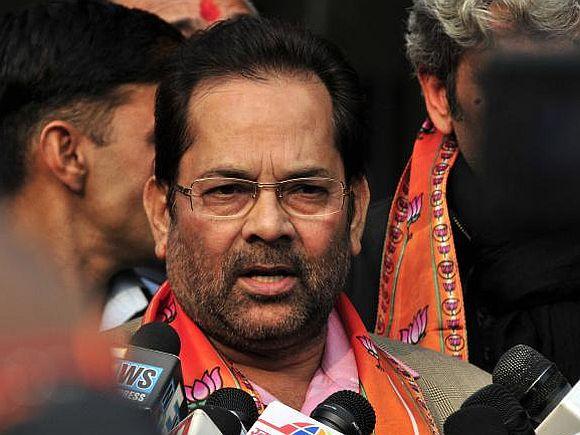 Days before it completes its first year in office, Narendra Modi's government is left red faced once again -- this time by remarks made by Union Minister Mukhtar Abbas Naqvi.
Justifying the ban on cow slaughter, the Union minister of state for minority affairs said on Thursday, "Those who cannot survive without eating beef should go to Pakistan."
"It is not about loss or profit... it is an issue of faith and belief. It is a sensitive issue for the Hindus," Naqvi said at conclave organised by TV channel Aaj Tak.
"If a certain section is dying because they can't sell or eat beef then this is not the country for them. Let them go to Pakistan or an Arab nation," he added. "Even Muslims are against it..."
Naqvi was immediately questioned by All India Majlis-e-Ittehadul Muslimeen chief Asaduddin Owaisi also present at the event. He asked whether the Centre would impose a blanket ban on beef across India, especially in states like Goa, Jammu and Kashmir and Kerala where a large number of people eat red meat.

Owaisi asked if Naqvi was asking Bharatiya Janata Party's Goa Chief Minister Laxmikant Parsekar to leave the country after he had assured Goans that beef would not be banned come what may.

In March, the Maharashtra government passed a new act which banned the slaughter of bulls and bullocks in addition to cows. This was followed by the Haryana government who imposed a complete ban on the sale of beef.

Home Minister Rajnath Singh had said that the government will use all its "might" to ban cow slaughter across the country. "Cow slaughter cannot be allowed in this country," he had said. "We will use all our might to ban it. We will try to build a consensus."

Upset by Naqvi's comments? Press the Boo button below and register your protest.