Union minister Giriraj Singh's shocking remark has been termed racist, even misogynistic by certain sections of the media.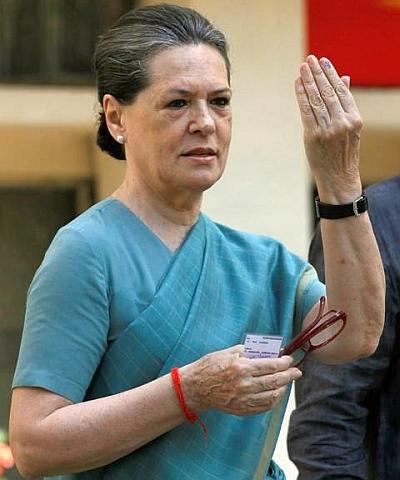 Union Minister Giriraj Singh has again kicked up a major row with racist remarks asking whether Congress would have accepted Sonia Gandhi's leadership if she was not white-skinned, comments that were slammed by a furious Congress which asked the prime minister to dismiss him and apologise to the nation.
"Had Rajiv Gandhi married a Nigerian woman and if she was not a white-skinned woman, would the Congress have then accepted her leadership?," he told journalists on Wednesday.
Various women leaders also attacked Singh, who is Minister of State for Micro, Small and Medium Enterprises, saying it reflected his racial mindset and attitude towards women.
The minister, who had courted controversies with remarks during Lok Sabha elections like people opposed to Narendra Modi can go to Pakistan, also mocked Rahul Gandhi's absence from the political scene and likened it to the "missing Malaysian airliner".
"Imagine a situation, if Congress was in power instead of us and had Rahul been the Prime Minister, and if for some reason, the PM had disappeared for more than 47 days. Absence of Congress Vice President is similar to that of the missing Malaysian airliner that still has not been located. The same way the Congress leader was not present in the budget session. No one in Congress is ready to speak. This is unfortunate for the Congress and a joke for the country," he told journalists in Hajipur, Bihar, on Tuesday night.
When asked about his controversial comments, Singh, who was in Delhi on Wednesday, initially refused to speak to the media. As his remarks snowballed into a major controversy, the BJP leader said if his comments have hurt Gandhi, he regretted them.
"If Soniaji and Rahulji have been hurt by my remarks, I express my regret," he said even as he maintained that his remarks were "off the record" and suggested that media was blowing it out of proportion.
Singh is not the first minister or a BJP leader to make controversial remarks that have caused embarrassment to the Modi government.
Parliament was rocked during the winter session by communal comments of minister Sadhvi Niranjan Jyothi during the Delhi elections that was disapproved by the prime minister. The party also had to distance itself from similar offensive comments of BJP MPs Yogi Adityanath and Sakshi Maharaj.
Singh is understood to have expressed his regret after a senior party leader and minister had summoned him to express
his disapproval of the minister's remarks. He is believed to have been asked to regret them.
The remarks of the minister comes on top of a rash of controversies involving political leaders who have made sexist and gender-insensitive comments.
Recently Rajya Sabha was rocked by the comments of senior JD(U) leader Sharad Yadav rpt Sharad Yadav who spoke of the colour and body shape of South Indian women that led to a row with HRD Minister Smriti Irani. Yadav was forced to regret his remarks on both the counts.
Goa Chief Minister Laxmikant Parsekar is also in the eye of a storm over his alleged advise to agitating nurses that they should not stage hunger strike in the sun because it will make them 'dark' and 'ruin their marital prospects'.
However, Parsekar today denied making any such remarks. He said he knew the protesting nurse and hence remarked that she appeared different after sitting in the sun.
The Congress refused to buy Singh's expression of regret. Prime Minister Narendra Modi must dismiss such a minister and apologise to the nation, an AICC statement said.
The statement, issued by Randeep Singh Surjewala, Incharge Communications of AICC, said the party "strongly deprecates and condemns the intemperate and distasteful remarks...bordering on insanity".
"It appears that continuous quest to appease Prime Minister has made him lose his balance. Such remarks are reflective of lack of moral fibre in BJP and its cadre," the party said.
"I think Prime Minister Narendra Modi has kept him in the cabinet only to make such statements and probably BJP does not have a better leader for Bihar," senior Congress leader Digvijay Singh said.
Another Congress leader Manish Tewari said it was for Modi to reflect as to what kind of "elements and bizarre creatures" are there in his government.
Leader of Congress in Lok Sabha, Mallikarjun Kharge, said Singh's comments were "shameful". "Such people have been kept by Modiji in his government," he said.
Senior CPI-M leader Brinda Karat questioned the Prime Minister's "silence" and wondered how, under his leadership, the "worst" kind of statements were being made.
"These are the kind of leaders, whether it's the Goa chief minister or Giriraj Singh, who are being trained and promoted by Narendra Modi," she said.
BJP leader Kiran Bedi said that an instance like this "does" distract from Modi's developmental agenda, but added, "I am sure it is a matter of concern for the Prime Minister. How he deals with it, let's leave it to him."
All India Progressive Women's Association secretary Kavita Krishnan said the comment was "deeply misogynist and patriarchal".
"Giriraj Singh is a minister and, like many of his predecessors in order to put down a woman politically, he has commented on her colour and looks. Why are you afraid of dealing with women as political opponents in political terms?" she asked.