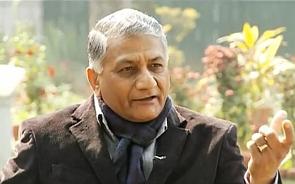 Former army chief General V K Singh's 'revelations' to a national TV channel that money was paid to ministers in Jammu and Kashmir by the army since Independence for 'winning people's hearts' has created a stir.
It all started with a report published by the Indian Express on last Sunday that an army inquiry had recommended a probe by the Central Bureau of Investigation into the Technical Services Division set up by the General, which allegedly paid Rs 1.9 crore to Agriculture Minister Ghulam Hassan Mir to destabilise the Omar Abdullah government.
The 'revelations' have fuelled furious discussions in newspapers, on television and on Twitter, calling his utterances 'unbecoming of a person of his stature', and that they would not only give an impetus to Pakistan, but also separatists who can use them to undermine the Indian system.
What do YOU think of General Singh and his statements? If you believe his statements are 'unbecoming', register your anger by clicking on the 'BOO' icon.