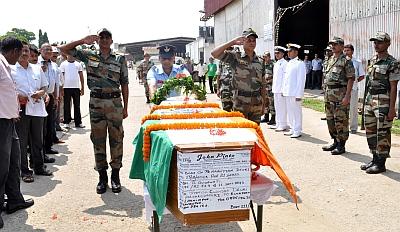 The bodies of the two sailors from Assam -- Narottam Deuri and Timothy Sinha -- who were among the 18 Indian Navy personnel killed in an explosion in the INS Sindhurakshak off Mumbai coast on August 14, were flown in to their respective homes in Assam on Wednesday even as their villages made elaborate arrangements with coordination with the administration to pay rich tributes.
Their bodies were flown in after a long wait in after those had been identified on the basis of DNA examinations. Naval engineer Narottam Deuri's body arrived at the Lokapriya Gopinath Bardoloi International airport in Guwahati at around 11 am and from there it was then taken by road to his village Major-chapori in Lakhimpur district.
On the other hand, Timothy Sinha's body was flown to the Silchar airport in south Assam before being taken to his native Poilapur village near Silchar town.
Eldest of two sons of marginal farmer Jyotish Deuri, Narottam's, 22, body reached his native village at 6 pm on Wednesday. It is being kept for night to facilitate public to pay the last respect before being cremated on Thursday morning, according to an official in Lakhimpur.
Narottam was a brilliant student who was forced by abject poverty to give up an engineering degree course before he managed to find a job of sailor in Indian Navy. His body is being kept at the Narayanpur Inspection Bungalow tonight for the people to pay tributes.
On Thursday morning it will be taken in a procession to his village Major-Chapori where it will be cremated in the presence of government representatives of Assam and Arunachal Pradesh and officials of the defence ministry.
In Silchar , the body of other sailor Petty Officer Timothy Sinha was taken to his native Poilapur village where a funeral service was held in the local church in the afternoon in presence of a senior cabinet minister of Assam, Gautom Roy, district deputy commissioner, superintendent of police and army officials.