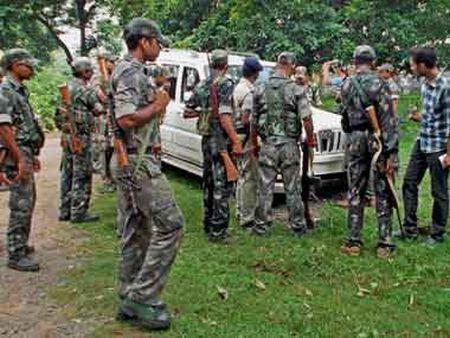 The bullet-ridden bodies of four police officials, who were abducted on Monday by Naxals, were found on Wednesday on a road in Chhattisgarh's insurgency-hit Bijapur district with notes being dropped near them justifying the killings.
The bodies of the four assistant constables were found on a road near Gudma village under Kutru police station limits close to the spot from where they were kidnapped by Naxals on Monday, Bijapur Additional Superintendent of Police Indira Kalyan Elesela said.
Reacting to the killings, Chief Minister Raman Singh said in a statement, "It (the incident) has exposed the inhumane, shameless and cowardly attitude of the Naxalites. There is no space for violence in a democratic set-up."
Expressing his deep condolence towards the bereaved families, he said, "The entire society is with the families of the martyred police jawans."
The rebels had shot dead all the four jawans by holding the so-called 'Jan Adalat' (peoples' court), near Gudma village on Tuesday night, a senior police official said.
The personnel were identified as Jaidev Yadav, Mangal Sodhi and Raju Tela, all posted at Kutru Police Station, while Rama Majji was attached to Bedre Police Station in the region.
"The motive of the Naxals is to demoralise the police force but our brave jawans are facing the menace of left wing extremism with full courage," the chief minister said.
"The cops are determined to free the entire Bastar region from Naxalites," he said.
The rebels dropped notes near the bodies of the jawans justifying their act, alleging that the police personnel are engaged in torturing innocent tribals and detaining them on false charges in Bastar.
They also wrote a message on a passenger bus cautioning vehicle operators not to take on board police and security personnel in their vehicles.
Meanwhile, state Forest and Law Minister Mahesh Gagda, Director General of Police AN Upadhyay, Additional Director General of Police (anti-Naxal operations) RK Vij, Inspector General of Police (state intelligence) Deepanshu Kabra and other senior officials reached Bijapur from Raipur in helicopter.
They paid homage to the jawans at the Bijapur district headquarters.
On July 13, Naxals had conducted a check of passenger buses and other vehicles enroute to Kutru from Bijapur.
Two of the jawans were travelling in a bus, while the other two were on a motorcycle from Bijapur town to Kutru when they were intercepted near Saknapalli village. Upon identifying them as police personnel, the Naxals abducted them, the ASP said.
Later, reports of abduction of two 'Gopniya Sainiks' (secret informers), also of assistant constable rank, travelling in the same region were also received. However, they were reported to be safe, the officer said.
Bijapur's Kutru region is considered as one of the strongest bastions of outlawed CPI (Maoist) in Bastar region.
During the 2014 Lok Sabha polls, the armed rebels had ambushed a polling party on April 12 near Ketulnar village and killed six persons.
Photograph: Representation picture/PTI