Gurugram police has assured residents that it is drawing out a detailed plan to avert traffic jams during rains this year.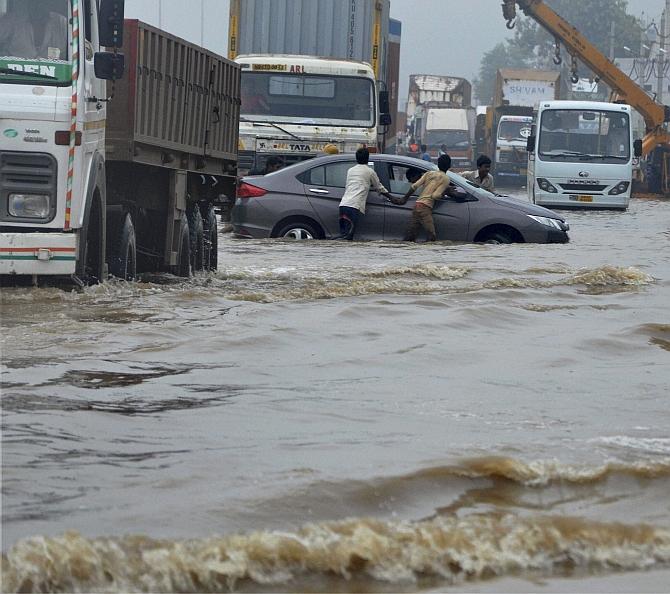 Police Commissioner Navdeep Singh Virk said there were no traffic jams in the city but the traffic movement was slow.
"There is no jam but traffic movement is slow. ACP and other officers are present on the spot. All media persons are requested to cooperate so that there is no panic among citizens," Police Commissioner Navdeep Singh Virk.
Virk said 14 crucial points have been identified on the NH-8 and other parts of the city where round-the-clock forces have been deployed including SHOs, four ACPs at west, east, south zones and Sohna road.
"At each point, inspector-rank officers have been deputed along with police personnel. Duty has been divided in two shifts, day shift from 8 AM to 8 PM and night shift from 8 PM to 8 AM. These duties will continue till further orders," he added.
The 14 crucial points are Hero Honda Chowk, Rajiv Chowk, Jharsa Chowk, Signature Tower Chowk, IFFCO Chowk, Shankar Chowk, Subhash Chowk, Golf Course Extension Road intersection on Sohna Road, Main Chowk in Sohna, Maharana Pratap Chowk, Atul Kataria Chowk, IMT Manesar Chowk, HUDA City Center Station and sector 31 redlight and their vicinity.
Virk said officials have been ordered to keep a watch on the situation and ensure smooth movement of traffic in their areas. In case of any adverse situation, they should rush to the spot and take control.
PCR will take hourly updates 24 hours a day on the traffic and flooding situation till further orders. In case of any disruption in traffic, the Police Commissioner would be informed.
Speaking to NDTV, Gurgaon Deputy Commissioner TL Satyaprakash admitted that "there were a couple to blunders we did... we apologise to whoever suffered and sincerely regret the inconvenience" but added that "we have taken this as an opportunity to reposition ourselves. Now, even if it rains double the amount, people won't face problems. We promise this won't repeat again."
B S Singla, chief general manager of the National Highways Authority of India, said the main reason for the traffic chaos on National Highway-8 (NH-8) was due to the poor management of storm drains.
"As the level at Hero Honda Chowk is down and water from all the sectors was coming there due to poor cross slope and the water was coming from different sectors. The drains constructed at the Hero Honda Chowk have been made to take normal water of the roads and not the drainage of the entire city, which leads to the collection of the entire water there," Singla said.
Giving details about the breached Badshahpur drain, Singla said: "The place where the Badshahpur drain is constructed, there is a five metre bridge, due to which water over flowed and got collected there."
When asked about the traffic jam on the highway, Singla put the blame squarely on the Haryana Urban Development Authority.
"The drains were made according to assigned levels. They were supposed to join that drain with the Badshapur drain. And further, had to do the desilting of Badshapur drain which is still not done," Singla said.
"The National highway drain can take only as much amount of water that falls on it and not the water from the entire city. They (city authorities) have to themselves re-examine the drainage of the city and construct it properly."
The traffic mess also led to a blame-game in the political sphere.
Former Haryana Chief Minister Bhupinder Singh Hooda blamed the Khattar government for the chaos.
"It is a serious situation, I went to Parliament yesterday and got to know from various journalists and other people that they were stranded for long. Who is responsible for this situation? The government could have avoided this situation," he told reporters.
"We had completed 90 per cent work on Dwarka Expressway during our tenure which would have diverted traffic. Present government could not complete remaining 10 per cent in the last two years," he added.
Long tailbacks were witnessed in gridlocked roads in Gurgaon last two days due to severe water-logging on National Highway-8 after heavy rains lashed Delhi's satellite city, leaving thousands of commuters stranded and forcing authorities to clamp prohibitory orders. Schools were also ordered to be shut down for two days. Prohibitory orders were imposed near Hero Honda Chowk in a bid to ease the congestion caused by massive traffic jams
Image: The traffic chaos at the flooded road around Hero Honda Chowk after heavy rains in Gurgaon on Friday. Photograph: PTI Photo