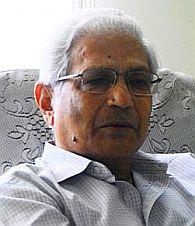 With the lengthy battle over his appointment finally settled by the apex court, the ball is now in Justice Mehta's court. He has been non-committal over his appointment as the state legal ombudsman. All eyes are now on his return from abroad on August 5. Sheela Bhatt reports.
The rejection of the Gujarat government's curative petition seeking a review of the judgment upholding the appointment of Justice R A Mehta as the Gujarat Lokayukta is a big blow to Chief Minister Narendra Modi. But the Congress leaders in the state capital Gandhinagar are not celebrating this huge legal victory yet.
Justice Mehta, a sauve and mild-mannered retired judge, has neither accepted nor rejected the Gujarat governor's governor offer to become Lokayukta. Congressmen are keeping their fingers crossed as the ball is in now in Justice Mehta's court.
On his last working day, Chief Justice Altamas Kabir and four other brother judges Justices P Sathasivam (who has become chief justice on Friday), G S Singhvi, B S Chauhan and Ibrahim Kalifulla dismissed the Gujarat government's petition saying it has no merits. The Modi government's argument was that in appointment of the Lokayukta primacy wasn't given to the opinion of the state government.
The Gujarat government alleged that Governor Kamla Beniwal appointment of Justice Mehta was 'illegal' as it was done without going through the proper consultation process.
Earlier this year, the SC ruled that the opinion of the Gujarat high court chief justice was most important and the governor could appoint the Lokayukta without the state government's advice.
Justice Mehta is in America at the moment and is expected to return on August 5.
When he was appointed despite Modi's strong objection, he lay low and didn't accept or reject the offer from the governor. Reportedly, when Justice Mehta was requested to take charge of the job he expressed a desire to let legal battles over his appointment get over.
A senior Congress leader from Gujarat told rediff.com, "Since he didn't reject the appointment we believe he will finally accept the offer and be sworn-in on his return from aboard. Since he hasn't rejected the governor's offer, we take it as acceptance. Still we are not sure what he will finally decide."
"In the unlikely case that Justice Mehta refuses to become Lokayukta then the whole process will have to start again with the state chief justice looking for a suitable candidate." Congress leaders are keen that after the clearance of all kind of legal hurdles Justice Mehta should accept the job.
The Congress leader said, "We have already published the long list of corruption by the Modi government. We will expose the Modi government's corruption in land allotment cases to rich industrialists in the name of development in the coming election."
Image: Justice R A Mehta