The Organisation of Islamic Cooperation has backed Pakistan and called on India to immediately cease "atrocities" in Kashmir and peacefully settle the issue in accordance with wishes of Kashmiri people and the UNSC resolutions.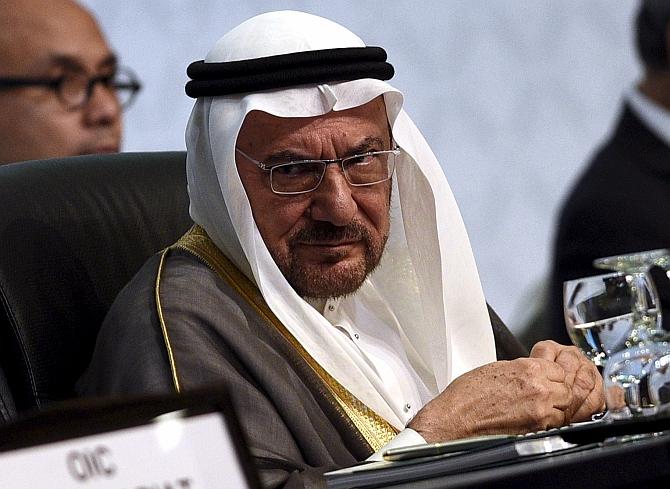 OIC Secretary General Iyad Ameen Madani on Monday expressed concern over the situation in Kashmir and called for an immediate cessation of atrocities by India, urging the Indian government for peaceful settlement of the dispute "in accordance with wishes of Kashmiri people and the UNSC resolutions".
The OIC is the second largest inter-governmental organisation after United Nations with a membership of 57 states spread over four continents.
According to the OIC, it is the collective voice of the Muslim world and ensures that the interests of Muslims worldwide are protected.
Expressing their solidarity with the Kashmiri people, the OIC group "reaffirmed their resolve to remain the voice of the Kashmiris' at the international stage."
Madani's remarks came after Pakistan Foreign Affairs Sartaj Aziz addressed a meeting of the OIC Contact Group on Jammu and Kashmir.
Aziz referred to the killing of "youth leader" Burhan Wani and the use of pellet guns by Indian forces against Kashmiri protesters following his death.
Wani was killed by security forces on July 8.
Aziz said such measures cannot break the spirit of the Kashmiri people and their legitimate struggle for self-determination.
"Underscoring that the Kashmir dispute remains central to lasting peace and stability in South Asia, the Adviser regretted that India had failed to reciprocate Pakistan's proposal of meaningful engagement for the resolution of the Jammu and Kashmir dispute," according to a statement by the OIC contact group.
The OIC remarks came on the day Indian Prime Minister Narendra Modi on Monday gave the green signal to diplomatically isolate Pakistan at every international grouping.
According to sources, India is to present all actionable evidence against Pakistan if required at international bodies.
IMAGE: OIC secretary general Iyad Ameen Madani. Photograph: Reuters
© Copyright 2023 PTI. All rights reserved. Republication or redistribution of PTI content, including by framing or similar means, is expressly prohibited without the prior written consent.