A high-profile judge on Thursday escaped an assassination attempt targetting his convoy in Pakistan's restive Balochistan but 14 people including security officials were injured in the roadside bombing, three days after 74 people mostly lawyers were killed in a suicide attack.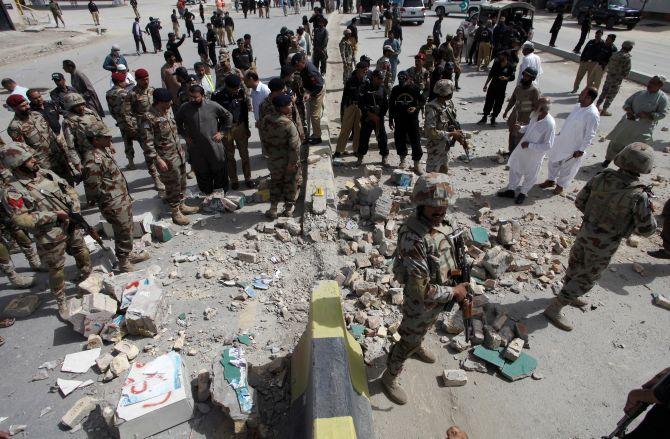 IMAGE: Security officials gather at the site of a bomb explosion in Quetta. Photograph: Naseer Ahmed/Reuters
Ten civilians and four security officials of the Anti-Terrorism Force were injured in Thursday's powerful explosion on the busy Zarghon Road in Balochistan's capital city of Quetta near the Al Khair Hospital that also shattered windows of nearby buildings, with two in critical condition.
The ATF personnel were escorting the vehicle of Justice Zahoor Shahwani of the Federal Shariat Court when the blast took place.
"The judge is safe but 14 others have been wounded including some civilians who were near the impact area," a senior police official said.
Balochistan Home minister Sarfaraz Bugti said the judge escaped the attack but one of the security vehicles escorting him was damaged.
No group immediately took responsibility for the attack, which came after a suicide bombing at a Quetta hospital on Monday killed at least 74 people, many of them senior lawyers, and injured 115 others targetting the legal community, seen as a strong force against terrorism in the troubled south-western region.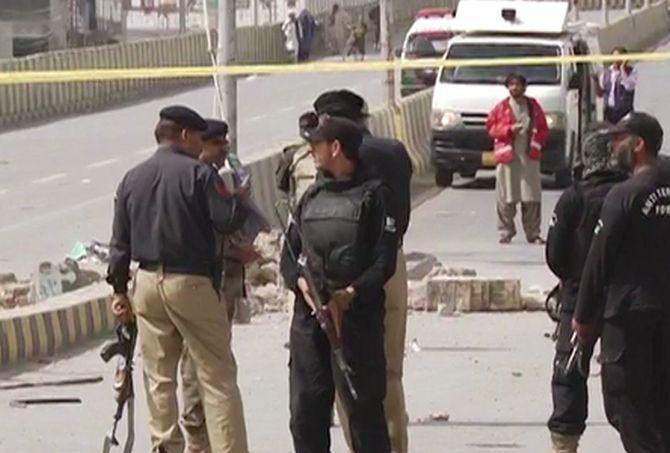 IMAGE: Police cordoned off the area immediately after the incident.
The suicide attack took place after lawyers and well-wishers had gathered at the CivilHospital to mourn the death of President of the Baluchistan Bar Association Bilal Anwar Kasi who was shot dead outside his residence earlier in the day.
Bugti said three to four kilogram of explosive material was used in Thursday's blast. The bomb was planted along the side of the road and exploded as the ATF vehicle passed by.
"The area is a congested and busy one and those responsible for this have not been identified or arrested.
"This is a busy road and the terrorists take advantage of this, planting bombs and fleeing on motorcycles," he said, strongly condemning the attack.
"These blasts are aimed at sabotaging Independence Day activities in Balochistan. I believe these cowardly acts will not bring down our morale. We are in a conflict zone and we will fight with renewed resolve.
"We are reviewing our security measures and you will see changes on the ground," the minister said.
Security forces and a bomb disposal squad reached the scene to collect evidence. Police cordoned off the area as a search operation went underway.
Bugti said the terror attacks in Quetta appeared to be an aim to sabotage Independence Day activities in Balochistan which has been hit by terrorist attacks by militants and separatists who demand more autonomy in the province in recent times while outlawed outfits have also carried out sectarian killings of Shia Muslim Hazaras and targeted police and security officials.