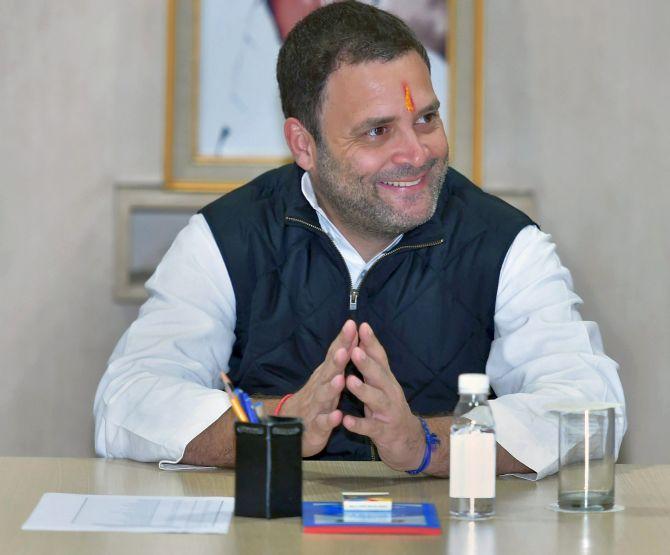 Congress leader from Maharashtra Shehzad Poonawalla on Monday dubbed the imminent election of Rahul Gandhi as party chief as "Mughal style coronation" and said it is a "black day" in the history of the grand old party.
Poonawalla, who is in the limelight after he alleged that the organisational election in the Congress was "rigged" and gave Prime Minister Narendra Modi a stick to beat the opposition party with, called the polls "unconstitutional and illegal" that will be challenged "from Delhi to Amethi".
"My statement on Rahul Gandhi's Mughal style coronation -- Black Day in history of my party... unconstitutional and illegal... will be challenged from Delhi to Amethi," he tweeted.
"Black Day - Rahul Gandhi is not the president of the Congress party but has been anointed like a Mughal king in a line of dynastic hereditary succession.
"As a member of the Congress party, I observe this as a Black Day in the history of my party," he said in a statement.
Poonawalla said the party of Mahatma Gandhi that once saw Maulana Azad become its president at the age of 35 years "is now the proprietorship of a Shehzada where no Shehzad (the Maharashtra Congress leader himself) can even contest a rigged election!"
Poonawalla said some "dynastic cheerleaders" claimed even before the filing of nominations ended at 3 pm that Rahul Gandhi was the president.
"This is because the entire world knows that this was a fixed match and a coronation. Only the crown was missing for the Shehzada!" he said.
The Congress leader said the road ahead may involve challenging (at the appropriate legal forum) the "coronation" of the "shehzada" (prince) by many workers who feel insulted, and recalled Sardar Patel who was "once denied his right".
"I believe in taking issues to the court of the people. From Delhi to Amethi it will be taken up. The stolen throne will have to be abdicated soon," he said.
Image: Rahul Gandhi filed his nomination papers for the Congress's chief's post on Monday. Photograph: Arun Sharma/PTI Photo