National security and corruption will be the Bharatiya Janata Party's poll plank in the coming general election, reveals Sheela Bhatt.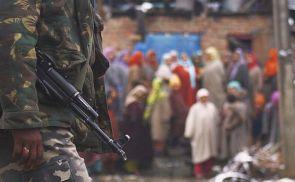 Bharatiya Janata Party leader Murli Manohar Joshi is preparing the draft resolution on national security to be tabled at the BJP's two-day national executive meeting in Goa, which begins on Saturday, June 8.
The BJP national executive has 80 plus members including special invitees.
According to a BJP leader, "The resolution on national security will send out the party's central message from Goa."
"The government has failed in maintaining national security," the BJP leader said.
"Chinese soldiers have crossed the Indian border. Indian soldiers have been beheaded by Pakistan. Maoists are killing political leaders. The government has completely failed in providing a sense of security to the nation."
As corruption has tainted the United Progressive Alliance government, and particularly the Congress party, the twin issues of national security and corruption will form the BJP's poll plank for the coming general election.
These are the two issues on which Gujarat Chief Minister Narendra Modi -- who is expected to play an important role in the BJP's Lok Sabha election campaign -- feels he has a stronger image among his core constituency.
The Goa meeting will focus on both the Lok Sabha election and the disturbing decline of the Indian economy.
While dismissing the allegations of a 'war' within the party over the BJP's prime ministerial nominee, the leader said, "If and when the party's collective leadership takes a decision on the candidate, every leader will abide by party discipline. (Senior BJP leader Lal Kishinchand) Advani or Modi or whoever is selected, s/he will be accepted by all."
The BJP, the leader insisted, is a democratic party and Advani, Modi, Sushma Swaraj, Arun Jaitley, everyone had a right to claim the nomination for the prime minister's job.
"We encourage such politics which is just not possible in dynastic parties like the Congress, Samajwadi Party or Bahujan Samaj Party."
"The BJP will surely select someone much before going to the Lok Sabha poll," the leader added. "Not selecting the prime ministerial candidate before going to the polls is out of the question."
He did not rule out the possibility of more responsibility being assigned to Narendra Modi at the Goa meeting.