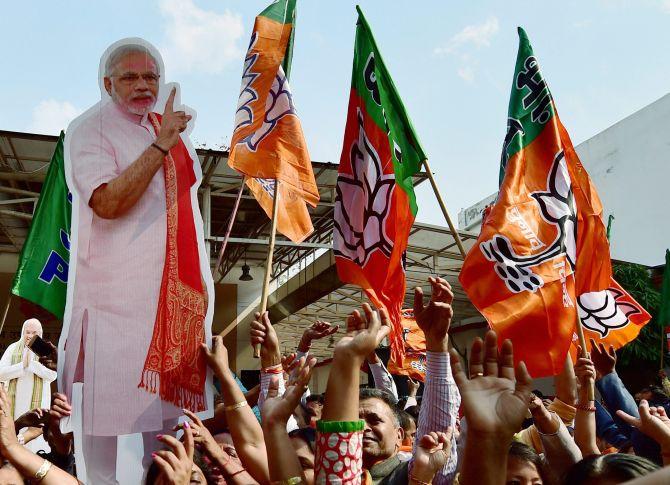 The Bharatiya Janata Party continued its winning performance in Gujarat by bagging 47 out of 75 municipalities on Monday. The main opposition, Congress, won 16 municipalities, while the Nationalist Congress Party and Bahujan Samaj Party emerged victorious on one each.
Voting for the 75 municipalities was held on last Saturday and the results were declared on Monday.
"The BJP has won 47 municipalities, the Congress 16, the NCP and BSP one each. While Independent candidates won four municipalities, six others remained hung as no party gained a clear majority," State Election Commissioner Varesh Sinha said.
In December last year, the BJP had registered a sixth straight victory in the Gujarat assembly polls by winning 99 seats while the Congress secured 77 seats in the 182-member House.
Three of the six municipalities that delivered a hung verdict are Khedbhramaha in Sabarkantha district, Gariadhar in Bhavnagar district and Pardi in Valsad district, where both the BJP and the Congress won 14 seats each.
"Of the total 2,060 seats in these 75 municipalities spread across 24 districts, the BJP won 1,167, Congress 630, NCP 28 and BSP 15 seats. Other small political parties won 18 seats, while Independent candidates emerged winners on 202 seats," Sinha said.
The vote-counting process was peaceful, he added.
In Prime Minister Narendra Modi's home town Vadnagar in Mehsana district, the BJP won 27 of the 28 seats, while the remaining seat went to the Congress.
As the results were declared, BJP workers started celebrating at the party headquarters in Gandhinagar. However, the Congress said the party had improved its tally in the civic body polls.
"This is a victory against the negative politics and programmes of the Congress. The people of Gujarat have once again rejected the negativity that the Congress is generating," BJP spokesperson Bharat Pandya said.
Congress leader Alpesh Thakore said the party had improved its tally substantially.
"The Congress held eight municipalities earlier. We have improved our tally substantially. We are going to have Congress presidents in 20 municipalities with the support of Independent candidates," he said.
Results proof of people's unbreakable faith in BJP: Shah
BJP president Amit Shah described his party's win in Gujarat municipal polls as a proof of people's "unbreakable" faith in the state government and Prime Minister Narendra Modi's good governance and pro-people policies.
"For people of Gujarat to continuously put their trust in the BJP is a proof of their unbreakable faith in the state government's and Prime Minister Narendra Modi's good governance and pro-people policies," Shah said in tweets, congratulating state leaders for the "grand" win.