A day after Anil Antony joined the Bharatiya Janata Party snapping all association with the Congress, A K Antony's younger son Ajith on Friday said his brother's decision was an "impulsive" one and the saffron party would throw him out like "curry leaves" after using him temporarily.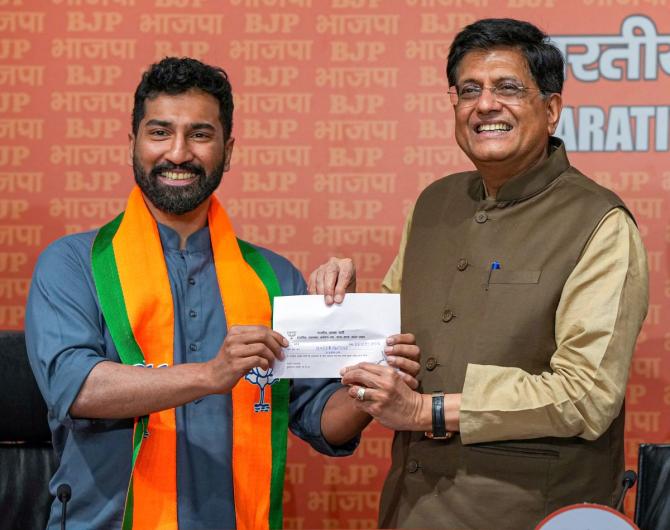 Talking to reporters in Thiruvananthapuram, Ajith Antony said Anil had not given the slightest hint to the family about his decision, and it was a shock to all of them to see the news flash on channels about the development on Thursday.
He also said his father had become so devastated after seeing Anil accept the BJP membership at their headquarters in New Delhi.
"Pappa (A K Antony) was seen sitting with utmost pain in a corner of the house. I have never ever seen him so weak like this in my life. He did not shed tears, that's all," Ajith said.
He said his brother would have his own reasons to join the BJP and said he used to receive several abusive calls from unknown Congress party workers, which might have had hurt him.
"I thought he would stay away from the (Congress) party out of anger, but I never ever thought that he would go to the BJP. The decision was a totally unexpected one, " Anil's younger brother said.
Terming Anil's decision to join the BJP as "very impulsive," Ajith said he believes that he will come back to the Congress party after rectifying his mistakes.
He may continue to remain in the BJP if he feels that it is good for his political future, Ajith said in response to a question.
"He probably would have gone, as he felt that it would be good for him. But, I will say again and again that they (BJP) will throw him out like curry leaves," he said.
Citing the examples of leaders like Alphons Kannanthanam and Tom Vadakkan, who had joined the BJP a few years ago, Ajith said the BJP would use everyone temporarily and throw them out like used curry leaves.
Anil Antony had joined the BJP in the presence of Union ministers Piyush Goyal and V Muraleedharan in New Delhi on Thursday.
An emotionally charged A K Antony had later said in Kerala that it was a "wrong" decision.
"I am deeply pained by Anil's decision to join the BJP. It was a wrong decision," the former Defence Minister had said.
Anil, who headed the Digital Media Cell of the Kerala Pradesh Congress Committee, quit the Congress two months ago, after criticising the party's stand on the controversial documentary film of the BBC on Prime Minister Narendra Modi, and slammed the Congress leadership for working for a "single family" instead of for the country.
© Copyright 2023 PTI. All rights reserved. Republication or redistribution of PTI content, including by framing or similar means, is expressly prohibited without the prior written consent.