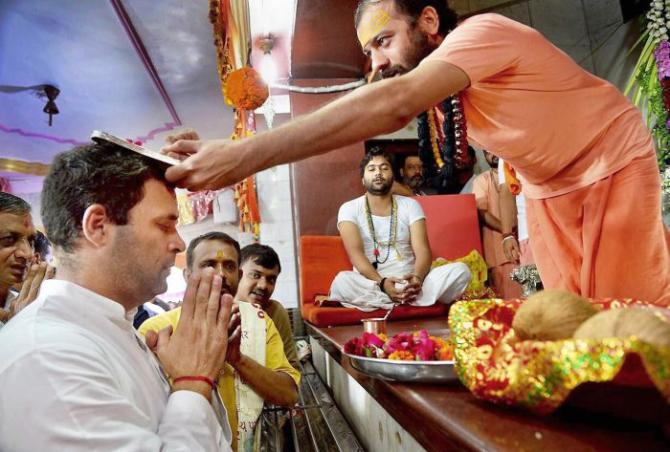 With the Gujarat polls less than two weeks away, the Bharatiya Janata Party on Tuesday raked up the issue of an old United States diplomatic cable which allegedly quoted Rahul Gandhi as saying that 'Hindu terror is a bigger threat' in India than the Pakistan-based Lashkar-e-Tayiba, and sought his explanation.
Addressing a press conference in Ahmedabad, Union Law Minister Ravi Shankar Prasad referred to the cable which was leaked by the whistleblower website WikiLeaks and subsequently published in some newspapers in 2010.
Prasad said Gandhi should be 'ashamed of linking' Prime Minister Narendra Modi, who was then the chief minister of Gujarat, when he spoke about 'polarising figures in the BJP' during his purported conversation with a US diplomat.
"In 2010, two years after the (26/11) Mumbai terror attack, US Secretary of State Hillary Clinton was on India tour. At the lunch organised for then prime minister Manmohan Singh, US Ambassador Timothy Roemer was sitting next to Rahul Gandhi and asked the Congress leader what he thinks about the LeT," Prasad said.
"In his response, Rahul told Roemer that forget LeT, it is the Hindu terror of this country which is a bigger threat. The US envoy Roemer sent this conversation as a cable to his country. Later, that cable was leaked and published by London-based The Guardian newspaper," the minister said.
Referring to the purported communication, Prasad said, the US envoy even wrote that the Congress 'general secretary' (Rahul Gandhi) was referring to the tensions created by some of the more polarising figures in the BJP such as Gujarat chief minister Narendra Modi.
"This is the level of the Congress and Rahul. It was indeed shameful that he tried to link Modi with it. We demand an explanation from Rahul on this. He should be ashamed of himself as he thinks that LeT is less dangerous that Hindu saffron terror. And now, he is visiting temples in Gujarat," the BJP leader said.
Prasad's diatribe came a day after the prime minister accused the Congress vice president of applauding the release of LeT chief Hafiz Saeed in Pakistan, and asked why he hugged the Chinese ambassador during the Doklam standoff.
He also lashed out at the Congress over a joint statement issued by India and Pakistan in Sharm el-Sheikh in July 2009.
Prasad alleged that Manmohan Singh had accepted his Pakistani counterpart Syed Yousuf Raza Gilani's charge that India was interfering in Pakistan's restive Balochistan region.
"During the talks between both the PMs (in Sharm el-Sheikh), Pakistan had said that they are worried about Balochistan as India is interfering in it (the region). Surprisingly, Manmohan Singh accepted Pakistan's worry about Balochistan, which was also mentioned in the joint statement," the minister said.
Prasad said the instance of Manmohan Singh 'agreeing to Pakistan's concerns on Balochistan', at a time when the neighbouring country was spreading terror in Kashmir, amounted to 'bigger compromise with national interests'.
"On one side, Pakistan is spreading terror in PoK and Kashmir, while on the other side Indian PM (Singh) agrees to Pakistan's concerns in Balochistan and that too just a few months after the 26/11 attack. There cannot be any bigger compromise with nation's interests than this one," he added.
Commenting on former Jammu and Kashmir chief minister Farooq Abdullah's challenge to the Centre to hoist the national flag at Lal Chowk in Srinagar before talking about unfurling it in PoK, Prasad said the tricolour is already flying high across the state.
"Abdullah had also said that PoK should be given to Pakistan...Our tricolour is already flying high in the state and Pak-sponsored terrorism is losing its ground," he said.
Responding to a query, Prasad said repealing Article 370 of the Constitution that gives autonomous status to the state of Jammu and Kashmir was indeed a part of the BJP's election manifesto.
He said the situation in Kashmir has been improving gradually during the last two years.
When asked about the statement of Lalu Prasad's son Tej Pratap following withdrawal of National Security Guard security to the Rashtriya Janata Dal supremo that he will get the prime minister 'skinned', Prasad said, Rahul Gandhi should also speak on this as RJD is an ally of the Congress.
Photograph: PTI Photo
© Copyright 2021 PTI. All rights reserved. Republication or redistribution of PTI content, including by framing or similar means, is expressly prohibited without the prior written consent.