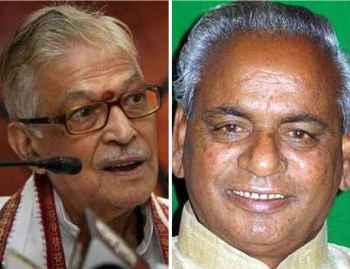 Bharatiya Janata Party veterans like Murli Manohar Joshi, Kalyan Singh and V K Malhotra may be accommodated as governors as their names are doing the rounds for appointment in gubernatorial posts in key states like Karnataka, Maharashtra and Haryana.
Other names that are in the reckoning include expelled BJP leader Jaswant Singh, who was recently reached out by Prime Minister Narendra Modi, former Lucknow MP Lalji Tandon, senior party leader from Madhya Pradesh Kailash Joshi and former Speaker of Uttar Pradesh Kesari Nath Tripathi, official sources said.
Joshi, who was elected to the Lok Sabha from Kanpur, has not been included in Modi's ministry while Kalyan Singh had opted out of electoral contest in favour of his son Rajveer. Malhotra has not been much active in politics.
Assembly elections are due this year in Maharashtra, Haryana and Jharkhand and the National Democratic Alliance government is expected to appoint new governors in these states.
Among the current governors, H R Bhardwaj (Karnataka), Jagannath Pahadiya (Haryana), Devanand Konwar (Tripura) and Margaret Alva (Rajasthan) will complete their five-year terms in next three months.
While Bhardwaj had a strained relationship with the previous BJP government in Karnataka, Alva reportedly shares cordial relations with Rajasthan Chief Minister Vasundhara Raje.
Those who will complete their tenure in six to eight months are -- Kamla Beniwal (Gujarat), M K Narayanan (West Bengal), J B Patnaik (Assam), Shivraj Patil (Punjab) and Urmila Singh (Himachal Pradesh).
Beniwal's spat with the then Chief Minister Narendra Modi's government in Gujarat over the appointment of Lokayukta in the state is well known.
Former Delhi Chief Minister Sheila Dikshit was appointed as Kerala Governor in March, Jammu and Kashmir Governor N N Vohra was given a second term in April 2013 and former Home Secretary V K Duggal was appointed as Governor of Manipur last December.
Other governors who may come under review of the new NDA government are B L Joshi (serving his second term in Uttar Pradesh), B V Wanchoo (Goa), K Sankaranarayanan (serving his second term in Maharashtra), K Rosaiah (Tamil Nadu), Ram Naresh Yadav (Madhya Pradesh), D Y Patil (Bihar), Shriniwas Dadasaheb Patil (Sikkim), Aziz Quereshi (Uttarakhand), Vakkom Purushothaman (Mizoram) and Syed Ahmed (Jharkhand).
Chhattisgarh Governor Shekhar Dutta, Arunachal Pradesh's Lt General (retd) Nirbhay Sharma, Nagaland's Ashwani Kumar and Meghalaya's K K Paul may also come under the scrutiny of the new government.
Image: BJP veterans Murli Manohar Joshi and Kalyan Singh